Typeface and Salesforce Partner to Bring Personalized Generative AI Capabilities into Salesforce Marketing GPT

Typeface
July 16th, 2023 · 3 min read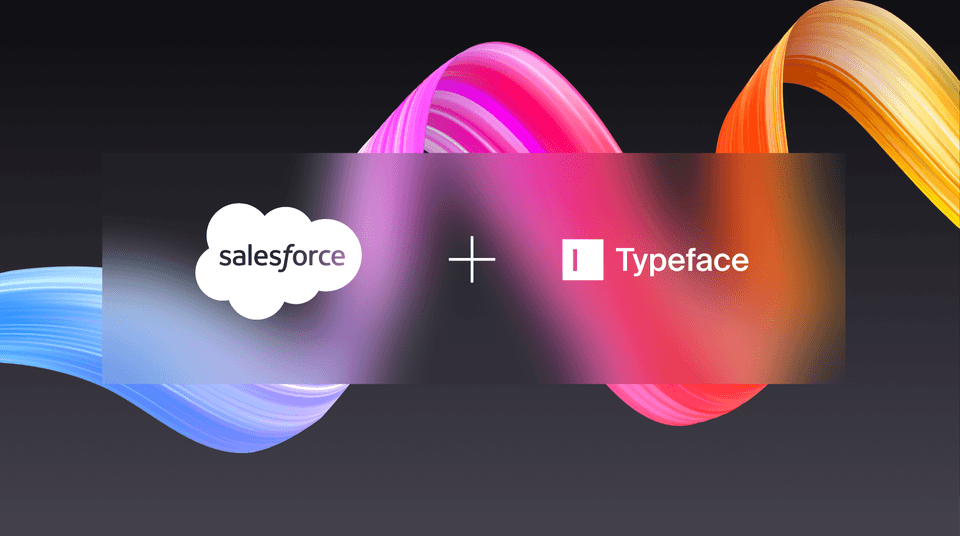 Customers using Marketing GPT will be able to leverage Typeface's generative AI content platform to create contextual visual assets for multi-channel campaigns.
SAN FRANCISCO, June 22, 2023 /PRNewswire/ -- Typeface, a generative AI platform for enterprise content creation, announced a new partnership with Salesforce to integrate their brand-personalized generative AI capabilities with Salesforce Marketing GPT, the first GPT-enabled marketing platform built on the world's most trusted CRM. Through this partnership, Salesforce and Typeface customers will be able to deliver contextual, customized content powered by generative AI across the entire customer journey.
In today's fast-paced digital landscape, teams grapple with increasing pressure to deliver personalized content quickly on customers' preferred platforms and channels. According to a recent Salesforce report, 60% of marketers say generative AI will transform their role. With this integration, businesses can look forward to unlocking tailored content across all their audience segments, campaigns, and channels.
Typeface provides dedicated AI models for each customer, which enables them to tailor AI-generated multimodal content for different personas and segments without concerns about data leakage. By integrating Salesforce's Marketing GPT with Typeface's brand-specific generative AI, businesses will be able to achieve scalable content personalization, boosting customer engagement and conversion rates.
"Personalized content at scale can significantly improve customer experience at every stage of their journey," stated Abhay Parasnis, Founder and CEO of Typeface. "Our partnership with Salesforce brings the power of Typeface brand-affinitized AI within Salesforce's widely used marketing services. Together, Typeface and Salesforce will provide comprehensive, high-quality customer and brand intelligence to create significantly more customized content for marketers in a fraction of the time and costs."
With this integration, marketers will be able to leverage their own style guides, messaging, and brand assets to create highly relevant, customized content using trusted data from Salesforce's Marketing GPT. Together, Typeface and Salesforce plan to bring new levels of creativity and productivity with generative AI to enterprises worldwide.
"With an ever-growing number of organizations relying on Salesforce, this integration will help deliver tailored, on-brand content seamlessly within the workflow of our customers. By partnering with Typeface to integrate personalized content directly into Marketing GPT, we are transforming the way businesses engage with their customers, enabling them to foster deeper, trusted connections and drive unparalleled productivity," said Stephen Hammond, EVP and GM of Marketing Cloud at Salesforce.
For more information, please contact info@typeface.ai and visit www.typeface.ai to learn more about Typeface.
Salesforce, Marketing GPT and others are among the trademarks of Salesforce, Inc.
About Salesforce
Salesforce empowers companies of every size and industry to connect with their customers in a whole new way through the power of AI + data + CRM. For more information about Salesforce, visit: www.salesforce.com.
About Typeface
Typeface is the enterprise-grade generative AI platform to supercharge personalized content creation. By uniting content velocity with brand personalization and control, any enterprise can now create exceptional, on-brand content faster and easier than ever before. We provide industry-first self-serve solutions for complete lifecycle content development, so every employee can craft captivating content with ease, speed, and brand authenticity. For more information, please visit typeface.ai and follow @typefaceai on Twitter, LinkedIn, and Instagram.
Media Contact
press@typeface.ai
pr@salesforce.com
---