Typeface and Google Cloud Announce Strategic Partnership to Provide AI-Generated Personalized Content at Scale for Enterprises Worldwide

Typeface
July 16th, 2023 · 3 min read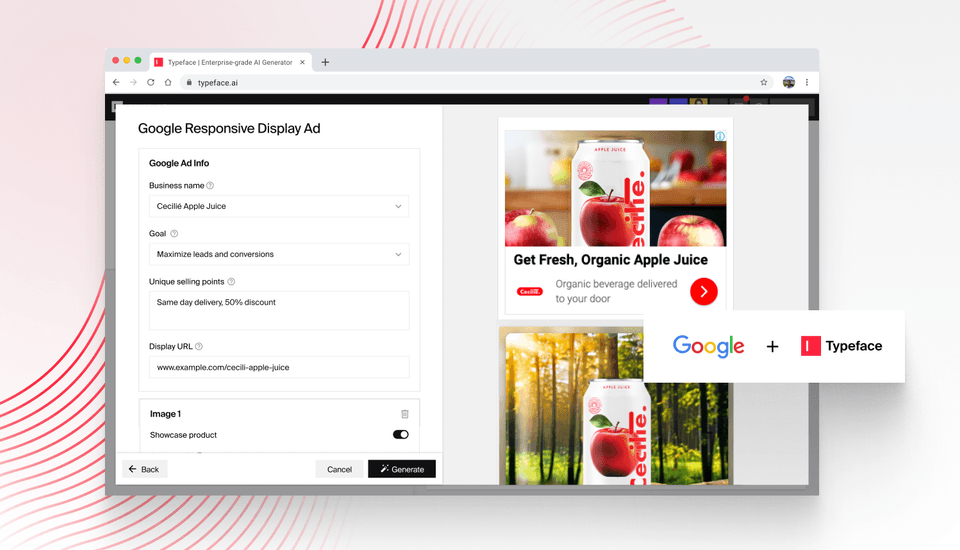 Integration with Google Cloud and Joint Go to Market Will Extend Typeface's Highly Customized Generative AI to Businesses and Workspace Users  
SAN FRANCISCO, June 7, 2023 -- Typeface, the generative AI platform for enterprise content creation, today announced a major partnership and deep technology integration with Google Cloud to power personalized marketing content at scale for enterprises worldwide. By integrating Typeface with Google Cloud's large language models and launching Typeface as a plugin in the Google Workspace Marketplace, businesses can now quickly create highly customized, data-driven content for multiple marketing channels. The new partnership will bring capabilities that extend Typeface and Google Cloud to more businesses and millions of Workspace users, making it easy for marketers to utilize Typeface's content creation platform.
To fully harness the creative potential of generative AI and advance marketing objectives, enterprises require a platform that can adapt to rapid innovation and deliver brand-specific content, safely and securely. Now, businesses can use Typeface with Google Cloud's generative AI capabilities to easily produce genuine, captivating content that deeply engages customers at scale, improving operational efficiency while retaining branding consistency and control.
"Generative AI has the potential to streamline common marketing processes and tasks, like creating new, highly-tailored and engagement content for campaigns," said Kevin Ichhpurani, Corporate VP, Global Ecosystem & Channels at Google Cloud. "Bringing Google Cloud's generative AI capabilities and models to Typeface means users gain additional capabilities to build marketing content tailored to their brand voice and audiences. We're delighted to partner with Typeface to apply generative AI to more real-world business use cases."
"We are thrilled to partner with Google Cloud to transform how enterprises engage with their audiences through highly tailored, AI-powered content" said Abhay Parasnis, Founder and CEO of Typeface. "With Google Cloud's state-of-the-art AI language models and Typeface's deep personalization capabilities, marketers can seamlessly produce brand-specific content right within their Google Workspace environments."
Together, Typeface and Google Cloud will offer users:
Best-in-class generative AI technology that utilizes Google Cloud's cutting-edge generative AI capabilities and latest large language models through Vertex AI to stay at the forefront of AI innovation.

Data-driven personalization through a seamless integration that will enable businesses to quickly utilize their customer data stored in BigQuery alongside Typeface's brand-specific knowledge, helping customers quickly tailor content to individual products and personas at scale.

Bringing Typeface to the Google Workspace Marketplace, with compatibility for Gmail, Google Docs, Google Slides, Google Drive, and Google Chat. More than 9 million organizations pay for Google Workspace today, and these companies can now adopt Typeface through the Google Workspace Marketplace to create multiple marketing assets more efficiently from within their existing workflows.

Joint go-to-market initiatives with Google Cloud to drive widespread adoption and faster value creation through generative AI with global enterprises.
Stay tuned for more to come in the weeks ahead for Typeface on Google Cloud and Google Workspace Marketplace. For more information, please reach out to info@typeface.ai and learn more about Typeface at www.typeface.ai.
Editor's Note: This press release was co-written with Typeface to brainstorm ideas and generate entire sentences and paragraphs of text.
About Typeface
Typeface is the enterprise-grade generative AI platform to supercharge personalized content creation. By uniting content velocity with brand personalization and control, any enterprise can now create exceptional, on-brand content faster and easier than ever before. We provide industry-first self-serve solutions for complete lifecycle content development, so every employee can craft captivating content with ease, speed, and brand authenticity. For more information, please visit typeface.ai and follow @typefaceai on Twitter, LinkedIn, and Instagram.
Media Contact
press@typeface.ai
---