Beyond Boundaries: AI-Powered Outpainting, Upscaling, and Custom Social Post Templates

Frank Chen · Product Manager
July 27th, 2023 · 5 min read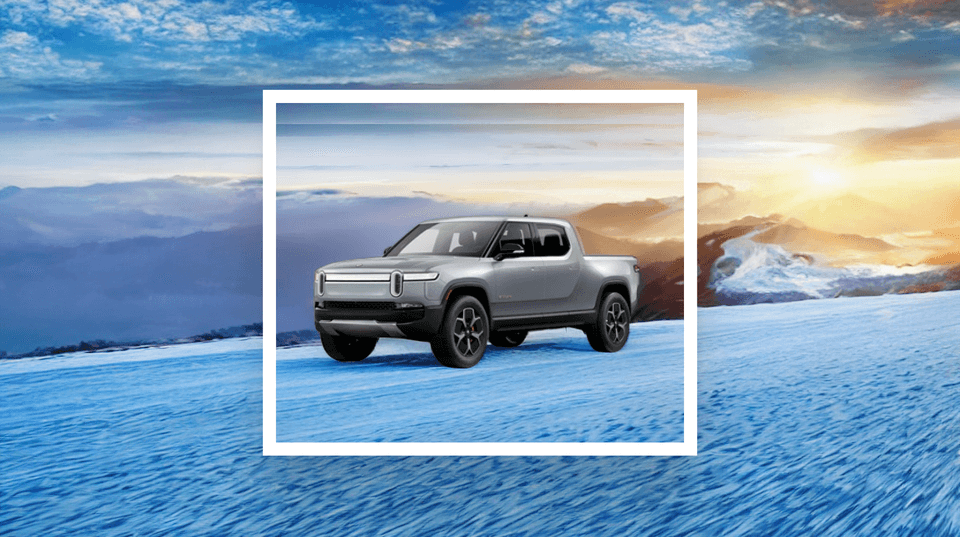 In today's fast-changing world of digital content creation, staying ahead requires adaptability and innovation. As content creators, marketers, and creative professionals, we know the power of captivating visuals and compelling copy to connect with our audience. But, adapting content for different platforms or ever-changing concepts can be overwhelming. That's where AI steps in, revolutionizing the way we manipulate and generate text and images while simplifying the entire experience – from ideation to creation to sharing – with a quick start, template-driven experience. AI's potential doesn't stop there. It goes beyond mere adaptation and brings unprecedented levels of creativity to the table.
Here's what's new in Typeface's latest product release:
Generative Extend: Paint Beyond the Frame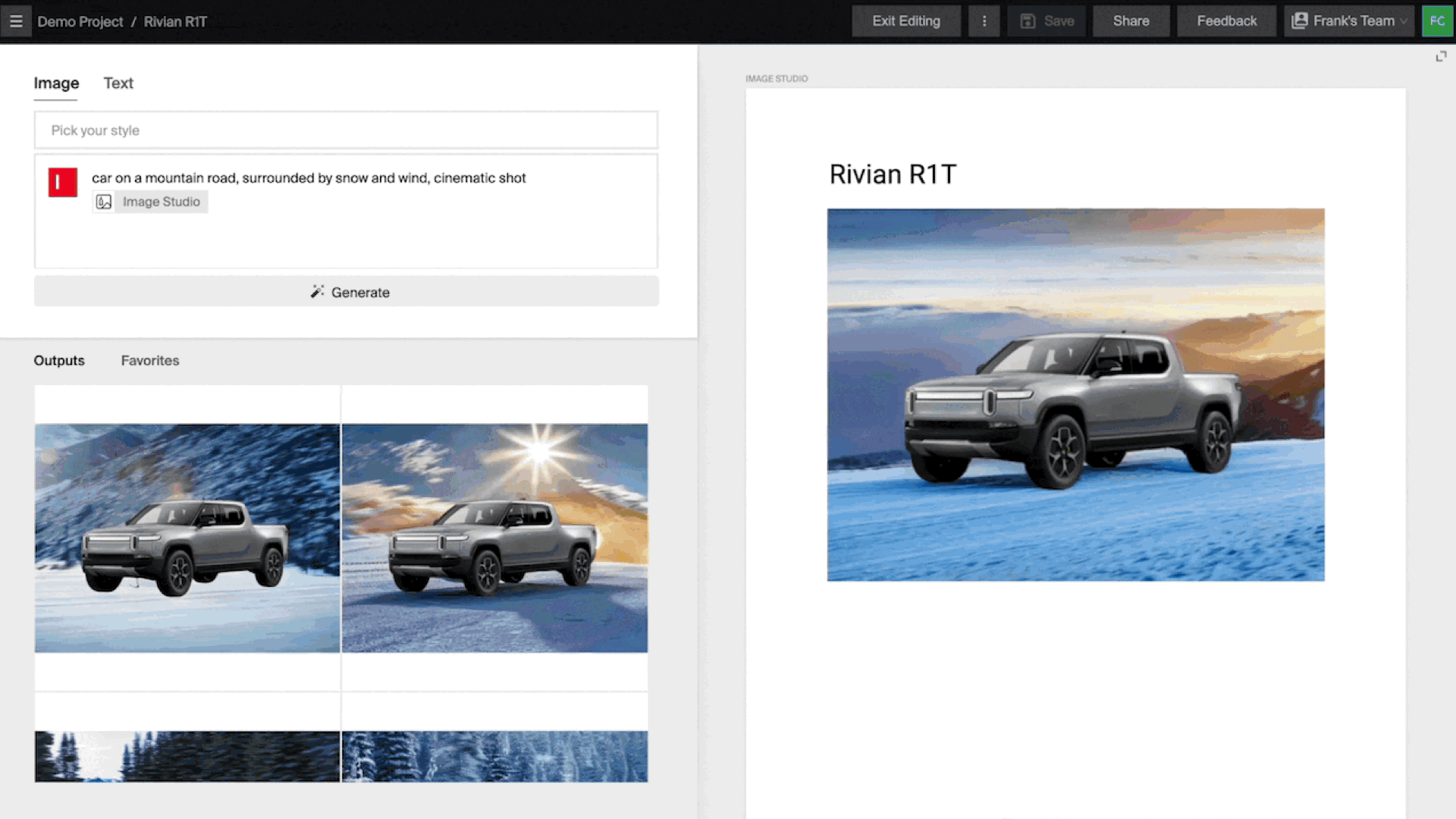 Envisioning the perfect shot or image is a critical aspect of any creative work. However, in reality, the captured image may not always fully align with the original vision. There might be a need for touch-ups, adjustments in aspect ratio, or better framing to transform it into something exceptional. This is precisely where our AI outpainting feature comes into play.
So, what is Generative Extend? It's a cutting-edge image extension technique, outpainting, that expands images beyond their original borders by accurately predicting elements that could exist outside the frame. By addressing common challenges in image editing, such as filling in gaps or adjusting to different aspect ratios, Generative Extend allows you to achieve stunning results without losing essential details. Here's what you can do with it:
Enhanced visual appeal with background extension or image completion: The perfect shot may be hiding just beyond the edges of your photo. Moreover, if you need to adapt images to fit banners or larger canvases while preserving crucial details, Generative Extend ensures a seamless adaptation without compromising the original color and style.

Adapt images to any size: Need your image to fit a banner or a larger canvas without losing important details? Now, you can optimize their existing images or generated visuals. By effortlessly adapting images to various sizes and aspect ratios, you can create compelling visual content for different platforms, from social media to advertising materials to website banners.

Spark your creativity: Generative Extend unlocks the potential for innovative ideas by enabling creative exploration with existing images, stimulating fresh perspectives and possibilities.
Boost your image resolution with ease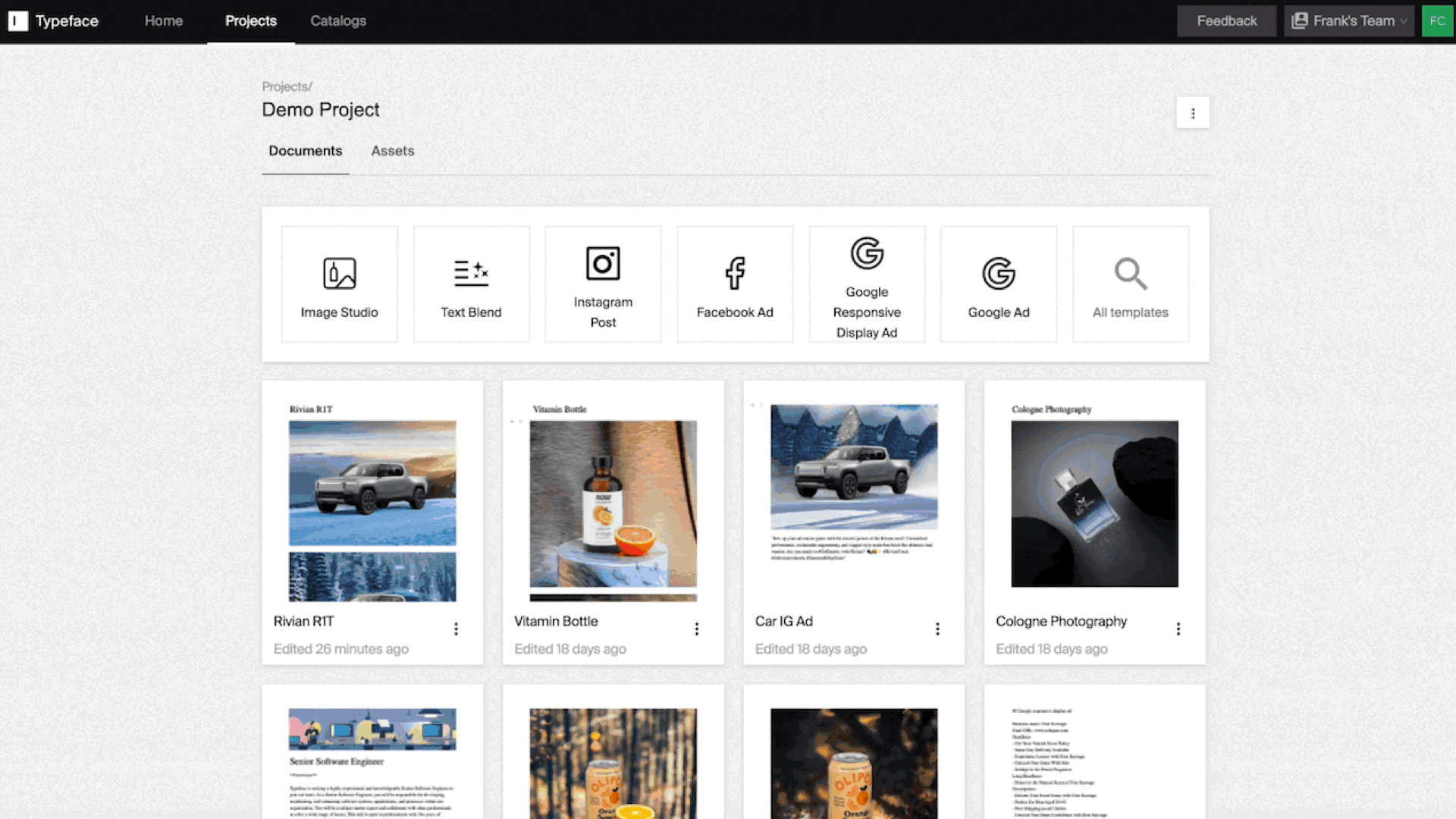 We understand there are many channels where you need to post content, and each channel requires a different resolution for the image. That's why we're introducing multiple resolution support. Now, within Image Studio, you can effortlessly specify your preferred pixel resolution and aspect ratio. Here's how this feature benefits you:
Enhanced brand preservation: Our latest upgrade allows you to generate images up to 1024x1024 pixels and upscale them to a 2k resolution. This capability ensures even the tiniest brand details and text are safeguarded, making your visuals truly stand out and leave a lasting impression on your audience.

Tailor images based on campaign requirements: Whether you require square, landscape, or portrait images, you can now generate directly in the desired aspect ratio. This flexibility allows you to create images optimized for each marketing channel, aligning perfectly with your campaign requirements.
Introducing two new templates to repurpose content for LinkedIn and Twitter
Our latest additions, the "LinkedIn Social Post" and "Twitter Social Post" templates, address a common user request. Many of our customers have expressed the need to transform their existing marketing materials, like blog posts, into engaging social posts for each unique social channel.
With these new templates, the process is simple and efficient. Just specify your goal for the post along with campaign details, and our system generates an initial draft, significantly reducing the time required to convert existing marketing collateral into social media content.
Example use cases for these templates include:
Twitter threads for engaging storytelling or expanding reach: Twitter threads can extend the reach of a marketer's message by encouraging retweets and shares. It also allows marketers to tell a more extended and cohesive story by breaking it down into a series of interconnected tweets. With Typeface, marketers can now easily create a series of tweets to promote new products, programs, or announcements with AI-generated tweet threads, complete with images, to streamline their workflow.

Content repurposing for LinkedIn: Social media managers can take content from various sources, such as blog posts, webinars, and company-wide emails, and effortlessly convert them into professional LinkedIn posts written in your brand voice and style to further amplify your message to another audience.
If you're already using our platform, great news! The new features are now available in your account. For those who haven't had the chance to experience the magic of Typeface yet, you can join our waitlist today and be among the first to try out all our new copy and image generation capabilities.That's a wrap for this update, but stay tuned as we have plenty more in store for you.
Happy generating!
ICYMI, we have some exciting partnership announcements to share with you:
We are excited to announce that a select group of Microsoft for Startups Founders Hub members now have exclusive access to Typefaces's private preview offering, making generative AI more accessible to startups. Read more here.

We have recently entered into a brand-new partnership with Google Cloud, aiming to increase accessibility for businesses and the millions of users already using Google Cloud and Google Workspace. Read more here.

Typeface won "Most Promising Generative AI Startup" at VentureBeat Transform We are honored to be among the ranks of other innovative AI companies like Salesforce, OpenAI, and Hugging Face. This recognition drives us to continue pushing the boundaries of generative AI and delivering outstanding experiences to our users.
---