Typeface Embed
Typeface for
Microsoft
Teams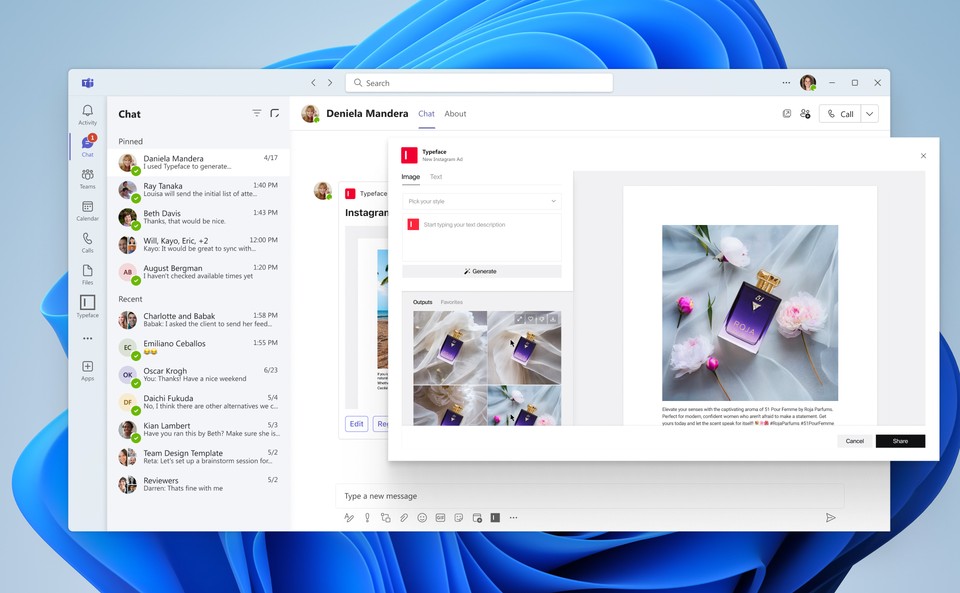 Simplify your marketing tasks with Typeface's generative AI. Craft personalized, on-brand content quicker than ever before. No need to jump between apps – ideate, create, and collaborate all in one place right within Microsoft Teams.
Key Benefits
Go from ideation to collaboration in
minutes
Work together faster
Easily share your work with teammates using our ready-made templates. Smooth collaboration, no time wasted.
Maintain your brand
voice

Let our AI tailor content to perfectly match your brand's voice and style. Ensure brand consistency without the hassle.
Instant Feedback Loops
Receive quick feedback on your content and make instant improvements with AI. Iterations have never been this easy.
Key Features
Collaborate on content within
chat
Spark creative ideas
effortlessly

Jumpstart your brainstorming process with Typeface's embedded app. From initial concept to polished draft, effortlessly transform blank pages into impactful content. Collaborate seamlessly within Teams, sharing and refining ideas easily with your team.

Example customer scenarios
Create a product shot for a new product launch
Generate copy for marketing emails
Edit a blog post to include a image describing the topic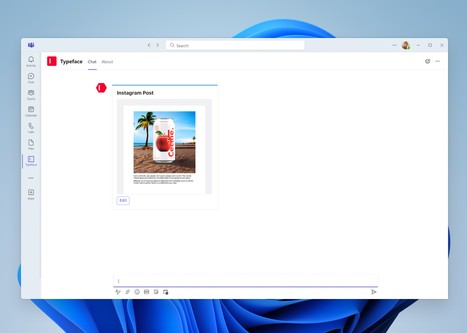 Create faster with quick start
templates

Craft tailored content in Teams using Typeface's ready-to-go templates. Repurpose materials effortlessly, such as simply right-clicking on a video and ask Typeface to draft a blog or social post. Or start from scratch with the 'Create & Share' feature.

Example customer scenarios
Convert a webinar into a blog post for online readers
Create a creative brief for a e-book launching a product upgrade
Develop SEO meta tags for web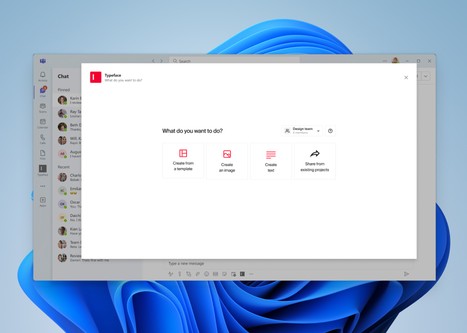 Share instantly for fast
feedback

Connect and work seamlessly with your team by chatting, sharing content, and refining ideas together in Teams. With Typeface's Generative Refine, make quick edits, such as improve writing, shorten text, change tone, and more, all within your Teams chat environment.