Unlocking Personalized Marketing at Scale: Introducing Typeface for Salesforce Marketing Cloud

Dhruv Sood · Product Manager
September 13th, 2023 · 3 min read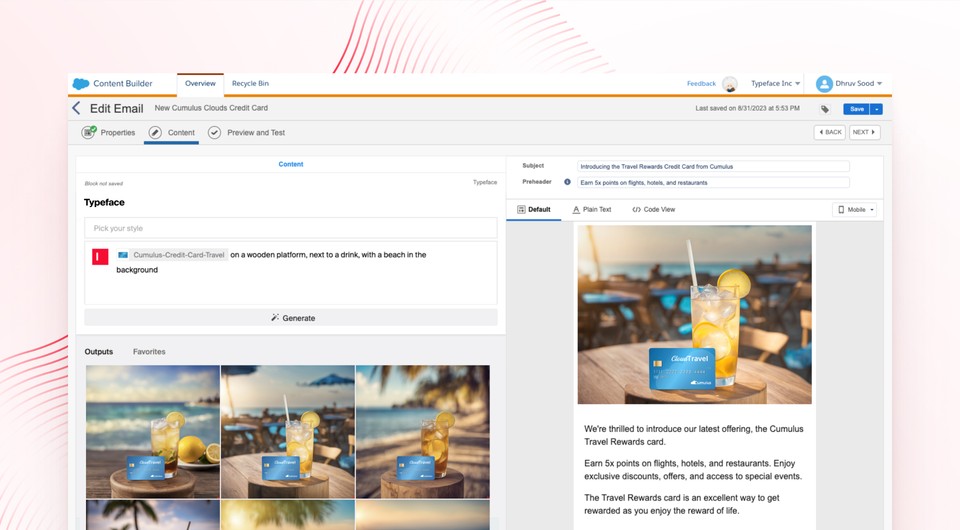 Marketers strive to reach the right people, with the right message, at the right time, via the right channel. In July of this year, we announced a partnership with Salesforce built on a common goal: to combine the strengths of our platforms and make it easier for marketers to engage their customers with on-brand, personalized content at scale.
Today at the Dreamforce Keynote, we're excited to introduce the Typeface experience integrated seamlessly inside Salesforce Marketing Cloud. Marketers with Salesforce Marketing Cloud can now quickly create content that showcases their brands and products in the best light within their workflows – right within Content Builder.
Stephen Hammond, EVP and GM of Salesforce Marketing Cloud, announced this integration at the Dreamforce Keynote and said, "A top challenge for marketers is creating personalized content at scale. Typeface's AI unlocks efficiency across the entire campaign lifecycle."
Abhay Parasnis, Founder and CEO of Typeface stated, "Our partnership with Salesforce brings the power of Typeface brand-personalized AI within Salesforce's widely used marketing services. Together, Typeface and Salesforce will provide comprehensive, high-quality customer and brand intelligence to create significantly more customized content for marketers in a fraction of the time and cost."
An integrated GenAI workflow to increase personalization at scale
One big challenge for marketers is authoring content that speaks to different groups of people. They work hard to define who these groups are, but making customized content just for them is still a slow process. The time that it takes to generate content variants limits how many variants marketers can test. That's why A/B tests like email messaging are often limited to a handful of simple subject line variations.
Typeface tackles this challenge head on. Here's how:
Boost personalized content by 10x: With Typeface, you can easily develop content that is specific to your different target audiences. Salesforce then dynamically delivers the exact content which each audience segment is most interested in.

Minimize context switching: This integrated experience helps you skip manual image downloads. The Typeface content block lets you quickly add text to your graphics, swap backgrounds, and position products without needing a complex design tool or waiting on resources for simple edits.

Rapidly experiment on content: Typeface increases marketer productivity by scaling experiments with GenAI. By quickly generating content variants, you can efficiently conduct multivariant testing to improve performance within each campaign and audience segment.
"With Typeface, marketers no longer need to waste tons of time trying to create the perfect image," said Prasanna Vijayakumar, VP of Product at Salesforce. "AI is here to help us, and the marketer is in-the-loop at every step. All the marketer has to do is select the image they like best and kick off the email."
Join us at Dreamforce
We invite you to join us at Dreamforce as we continue to demonstrate the Typeface experience for Salesforce Marketing Cloud. Attend the Marketing Keynote or catch our session at Theater Three of Moscone South's Marketing Campground on Tuesday, Sept 12 at 2:30pm or Thursday, Sept 14 at 3:00 pm. Additionally, visit the Campground's Marketing section at Booth #200 for a one-on-one demo.
Request access
We are excited to announce that our new solution is available today in private preview, and we have already begun piloting our integrated app with Typeface and Salesforce Marketing Cloud Customers. Watch a demo or learn more about this integrated experience. If you are interested in a personalized demo, sign up today.
---