Typeface Named a 2023 Hot Vendor in Generative AI by Aragon Research

Typeface
October 26th, 2023 · 3 min read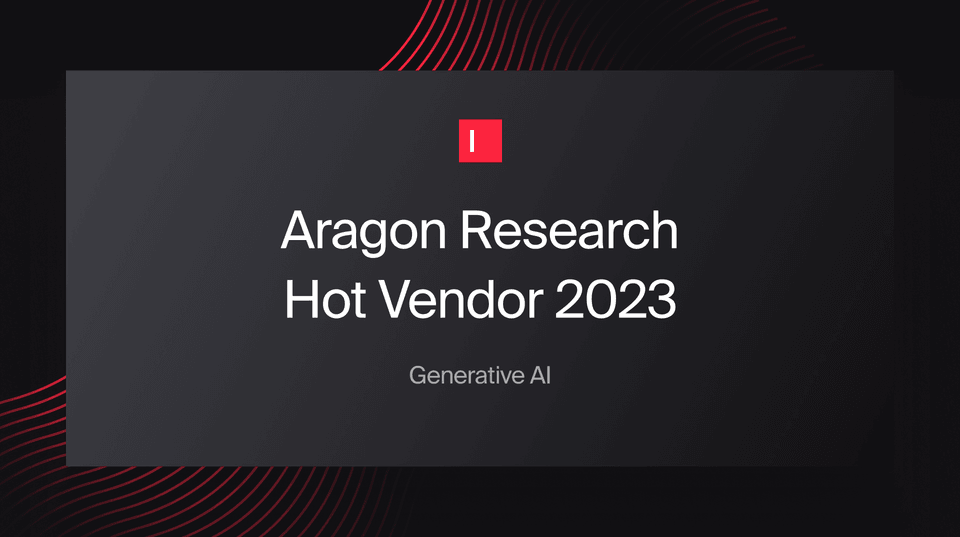 Generative AI is a top priority for many businesses today and finding the right partners to navigate this landscape is crucial. We are thrilled to announce that Typeface has been recognized as a 2023 Hot Vendor in Generative AI by Aragon Research. This recognition underscores our commitment to partnering with enterprises to safely and successfully integrate generative AI into their organizations. 
At Typeface, our focus is on simplifying content creation across diverse platforms and teams while preserving your brand's unique identity. Instead of churning out generic content, we're leading a trend highlighted by Aragon Research: tailoring generative AI for specific roles and industries to ensure top-notch content quality. Our AI, equipped with features like Blend and multimodal Brand Kit, creates highly personalized content by considering factors such as your brand's target audience, tone, image style, and product and brand representation. We also provide templates for common use cases across various roles and industries, including social media campaigns, employee communications, translations, and more.
Aragon Research recognizes Typeface as a top vendor for its ability to customize and optimize today's leading generative AI models. Here's why Aragon Research distinguishes Typeface: 
Tailored training: Typeface learns from your brand's existing materials and guidelines, capturing nuances like your preferred audience tone, image style, and product representation. 

Versatility: Typeface isn't limited to one format. It's multimodal, meaning it can handle various content types seamlessly. 

Brand control: We provide built-in brand governance. It ensures that every piece of content stays true to your brand identity. 

Integrations: Typeface easily integrates with popular platforms like Google Workspace, Microsoft Teams, and Salesforce Marketing Cloud, making it fit seamlessly into your existing workflow and use customer analytics data to further personalize content. 

Security first: We take data protection seriously. Typeface comes with enterprise-grade security measures, including data isolation and privacy, to safeguard your valuable content. 
According to the report, "What makes Typeface hot is its intuitive and accessible interface for producing high-quality custom content with language. It leverages templates for common use cases such as social media posts, blogs, or corporate landing pages, and then offers a suite of tools to configure these out-of-the-box content packages into tailored reflections of the core business identity. Its natural language interface makes it highly accessible to all knowledge workers, making it easy to onboard employees." 
We're thankful to our customers and partners for supporting Typeface along this journey. Join us as Typeface is formally presented with this award at Aragon Transform 2023, Aragon Research's annual virtual awards ceremony, on December 5th, 2023. Read the full Aragon Research report to learn more.
---