Typeface for Google Workspace: Integrating Personalized Generative AI Into Marketers' Workflows

Vishal Sood · Head of Product
September 21st, 2023 · 4 min read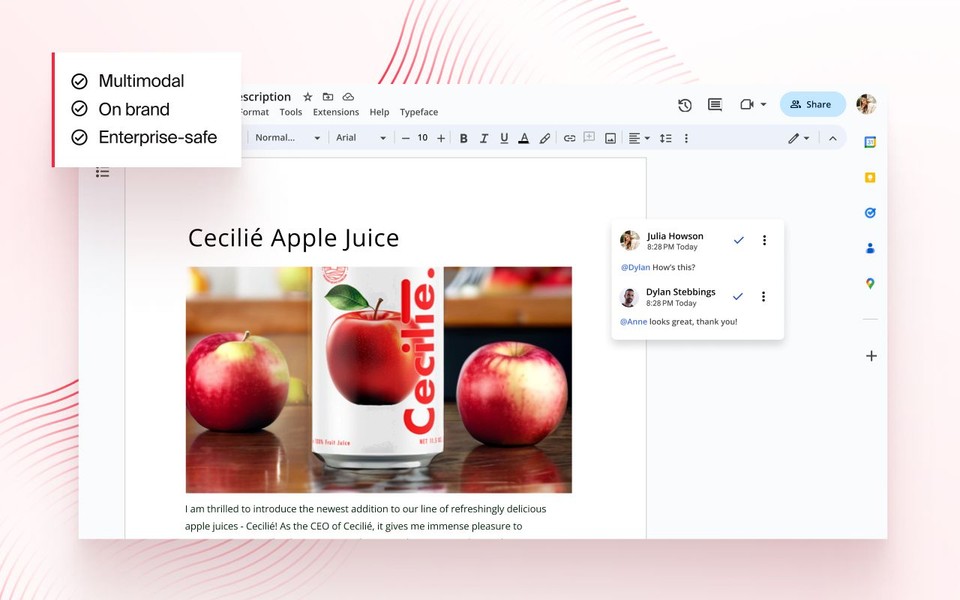 True innovation shines through when it's easy to use. That's why our goal is to embed our personalized GenAI experiences into your everyday work routine. With over 10 million organizations already paying for Google Workspace, we're bringing Typeface directly within your Google Workspace apps to further accelerate content creation workflows. Whether you're in Google Docs, Google Slides, or other Google Workspace apps, our Typeface add-on empowers any user to draft, collaborate, and share content, such as copy and images, without the need to leave Workspace.


Why Typeface for Google Workspace? In the realm of marketing, we're familiar with the challenges: adopting new content creation tools can be time-consuming and disrupt workflows while using standard, generic AI fails to capture your unique brand essence. That's where Typeface steps in. With Typeface, you can effortlessly create tailored content with Google Workspace tools, collaborate seamlessly, and maintain your brand's authenticity, all while avoiding the hurdles that come with isolated generative AI tools. It's about enabling your daily tasks to flow more efficiently while keeping your brand's voice distinctive and strong.
Maybe you're looking to transform existing webinars, how-to guides, or other materials into fresh written content that resonates with your brand's voice. Or perhaps you're keen on generating entirely new social media posts, paid ads, blogs, and more, using assets that align with your brand's identity. Here's a few real-world scenarios:
Imagine a digital marketing manager using Typeface's "Google Ads" template within Google Docs. Swiftly crafting multiple display ads with product images and fitting copy for an upcoming brand campaign becomes a breeze. Powered by Google Cloud's Vertex AI, the marketer can generate diverse scenes and copy. And, with Typeface's brand-specific AI, we preserve your brand's unique details, right down to elements like logos and text, as well as the brand's distinct voice.

A demand generation manager notices a webinar gaining traction and wants to fuel awareness with a blog in the CMO's style. The content marketer opens Typeface within Google Docs, sharing relevant YouTube links and CMO-style snippets. Within minutes, a blog in the CMO's voice is generated and they share it with the team. After refining and iterating on the team's feedback, they publish to boost views.

A social media manager's team gears up for a product launch, necessitating a solid social media strategy. Discovering the draft proposal on Google Slides, the manager taps into Typeface's Instagram template and crafts a compelling post, collaborates with a colleague, and stores it on Google Drive with ease.
How Typeface AI integrates into Google Workspace
What's unique about what we are doing with Google Workspace are the multiple ways in which Typeface integrates into Google Workspace's various collaboration and communication apps. Workflows can be started Gmail, where hybrid teams can quickly communicate. Or, they can collaborate in Google Docs to create marketing briefs, pulling together rich marketing content generated by Typeface's AI capabilities. In the future, Typeface will be able to ingest prompts and data from Google Sheets and Google Drive and export the resulting marketing content into Google Slides for marketing presentations. It's all about offering options that seamlessly fit into a team's preferred workflows and provide outputs where they are most useful. 
Typeface has built feature-rich integrations into Google Workspace using extensible platform endpoints of Google Workspace Add-ons.  This framework is driven by Google Workspace APIs and allows Typeface to take advantage of enterprise-ready integration surfaces leveraging a consistent user interface across Google Workspace apps within the native side bar, while meeting enterprise admin requirements for security, privacy, and data governance.
Install the Typeface add-on today from Google Workspace Marketplace. Not on Typeface yet? Get a 30-day free trial of Typeface when you sign up through Google Workspace.

To learn more, visit our webpage or watch a product demo video.
---