Sequoia and Typeface Partner to Empower HR Leaders with Generative AI on the Sequoia People Platform

Typeface
October 11th, 2023 · 4 min read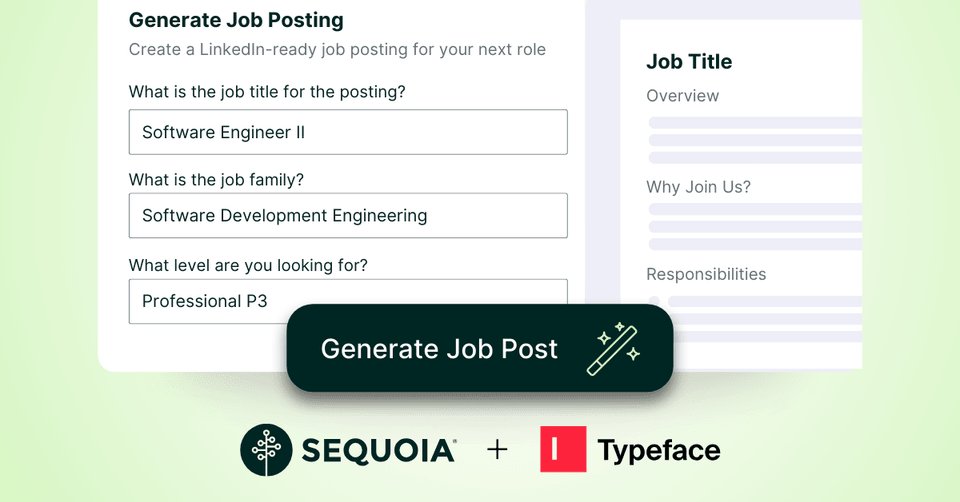 Latest capabilities transform employee communications and guide HR through the time-consuming task of creating job descriptions.
SAN FRANCISCO, Oct. 11, 2023 -- Sequoia, the pioneer in benefits and compensation, and Typeface, a generative AI platform for enterprise content creation, today announced new capabilities built to empower HR leaders to keep pace with the rapid and disruptive shift in today's workforce.
The partnership makes it possible for Sequoia clients to adopt Typeface Generative AI technologies to further enhance critical aspects of operationalizing their people strategies, from creating job descriptions that support role clarity and unbiased hiring to crafting employee communications that reach distributed workforces and drive program engagement. 
HR leaders can take advantage of:
Enhanced employee communications – Communicating with diverse and distributed employee populations is an ongoing challenge for companies. From critical announcements, open enrollment, and even recognition of significant employee milestones, creating communications is an important, yet time-consuming task for HR teams. Sequoia's experience helping companies engage their employees can now be translated into customized employee communications using AI. Leaders can leverage curated AI-prompts to easily generate content and AI-refinement tools to align that content to their brand to quickly distribute communications to a dispersed workforce.

AI-generated job descriptions – Generative-AI has been applied to Sequoia's job architecture, enabling companies to create job descriptions accurately, consistently, and efficiently for every role in their organization. AI quickly extracts information from the company's jobs catalog and applies Sequoia's advisory expertise to outline responsibilities and qualifications for jobs across every level and category in minutes instead of hours. Sequoia's platform then places those job descriptions alongside pay ranges defined using Sequoia Comp OS™ to keep finance, HR, recruiters, and hiring managers aligned.
Today's newly launched capabilities use Typeface's AI model that is informed by Sequoia's experience in working with companies of all sizes. With over 2000 clients ranging in size from 20 to 200,000 employees, Sequoia understands the guidance and support finance and HR professionals need to execute strategic decisions made about their total people spend. Sequoia and Typeface will continue to collaborate to bring additional AI-enhanced capabilities to the Sequoia People Platform later this year.
"Workplace and economic dynamics are putting a lot of pressure on HR to do more with less," said Greg Golub, Founder and CEO of Sequoia, "and despite being essential for establishing an engaged culture, effective and timely communication with both employees and recruits is a time-consuming challenge for HR. We're excited to provide these integrated Generative-AI features on our platform to elevate HR to concentrate on their strategic influence and meaningfully improve the efficiency of their work."
"Generative AI has the potential to transform not only our work processes and tools but also the very fabric of our organizations – our people," said Abhay Parasnis, Founder and CEO of Typeface.  "This kind of transformation and change in organizational culture can only happen through collaboration between business leaders and HR.  With Sequoia and Typeface, we are bringing the power of generative AI with the industry leader in people investment to supercharge every aspect of HR workflows."
The Sequoia People Platform recently won MarTech's award for Best Innovative or Emerging Tech Solution in the Total Rewards and Employee Wellbeing category. Typeface was also recently named a 2023 Intelligent Applications 40 winner, recognizing the top private companies building AI to shape the future.
To learn more about the Sequoia People Platform and to get started using the new generative AI capabilities, check out Sequoia's latest blog post and visit sequoia.com/ai.
About Sequoia
Sequoia is the leader in Total People Investment. We help companies create a people advantage through improving retention, attracting top talent, and increasing people-spend ROI. With expert advisory services across compensation and benefits and a powerful platform, we connect employee total comp programs with insightful people analytics so companies can manage their global people investment in real time to better meet the needs of their evolving workforce. Visit Sequoia.com or follow us on LinkedIn to learn more.
About Typeface 
Typeface is the enterprise-grade generative AI application to supercharge personalized content. By uniting content velocity with brand personalization and control, any enterprise can now create exceptional, on-brand content faster and easier than ever before. We provide industry-first self-serve solutions for complete lifecycle content development, so every employee can craft captivating content with ease, speed, and brand authenticity. For more information, please visit typeface.ai and follow @typefaceai on Twitter, LinkedIn, and Instagram.
---