Mastering Multimodal AI: Connecting Audio, Visual, and Text Across All Mediums and Branding

Sripad Sriram · Product Manager
October 18th, 2023 · 8 min read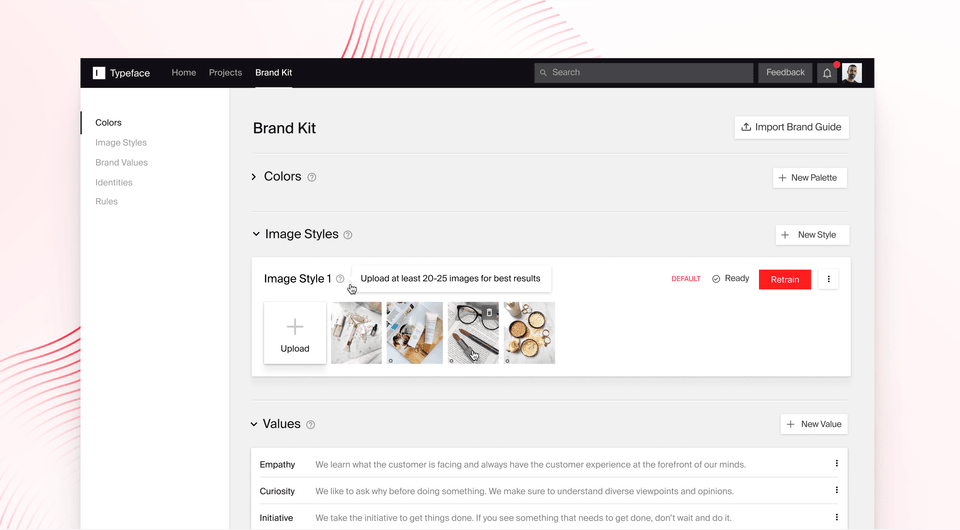 Creating content is more than just a means to convey your message. It's a dynamic experience where we seamlessly traverse various mediums to engage with brands. From perusing eye-catching visuals to participating in enlightening discussions and immersing ourselves in informative videos, content consumption has evolved into a multi-faceted journey.  
Navigating the intricacies of this diverse content landscape demands the adaptability of AI on multiple fronts. While many AI solutions excel in specific domains such as text, images, or video generation, they often struggle to connect the dots in content generation and brand personalization across different mediums. 
This is where Typeface's multimodal content personalization solution steps in. Engineered from the ground up to handle the nuances of diverse content types, our innovation is further enhanced with the introduction of Brand Kit and an expanded array of multimodal content templates. This kit functions as the central hub for your brand, binding together all the elements that define your identity, including your unique tone, brand values, image styles, color palettes, and more. You can engage with AI using a variety of media types – spanning text, images, and voice – all within a single conversation while ensuring the consistent expression of your brand's personality.  
Let's delve into the components of the Brand Kit and explore the new multimodal templates that will simplify content creation across diverse mediums. 
Brand Kit: The First Multimodal Hub for On-Brand AI Content  
The Brand Kit is your go-to tool for maintaining a consistent brand identity across all your marketing materials and mediums. It's designed to keep everyone on your team aligned and streamline content writing and approvals. Let's break down what the Brand Kit offers for images and text: 
Image Styles: Teach Typeface's AI your brand's visual identity by sharing examples of your existing on-brand images. Typeface will learn the textures, patterns, and characteristics from these images, such as the color of the room, the style of furniture, background scenery, strokes of an artist. Once you train a custom style based on a set of past images, you can then apply that style to any new images you create. Here are few examples of image styles in action: 
Ability to generate images that match your brand's visual style (e.g., minimalist, realistic, cinematic) without prompt engineering 

Create images styles for specific projects or campaigns, such as a spring-themed imagery for Mother's Day or beachy color palette for summer campaign 

Generate all images within the same style for brand consistency throughout your product catalog. Brand Kit ensures your social media posts, ads, emails, and more share a cohesive visual identity across all content generated. 
💡 Pro tips for how to set up image styles: For best results, we recommend: 
Upload 10-15 images (JPEG or PNG) for one style. 
Select images that show similar style, texture, or composition. For example, it could be photos of a living room with wooden floors, artwork on walls, and warm lighting; it could also be a series of artwork in specific styles, such as watercolor. 
Feel free to define multiple image styles. For example, you may want to define an image style for a certain quarterly campaign theme. 
Within an hour, Typeface will accurately train your unique AI to reflect your brand's color tones and aesthetic as part of the image style. 
To use an image style in an image prompt or Image Studio, use "Pick your style" above the prompt bar to select the image style from your brand kit. Note, you can select only one image style per generation.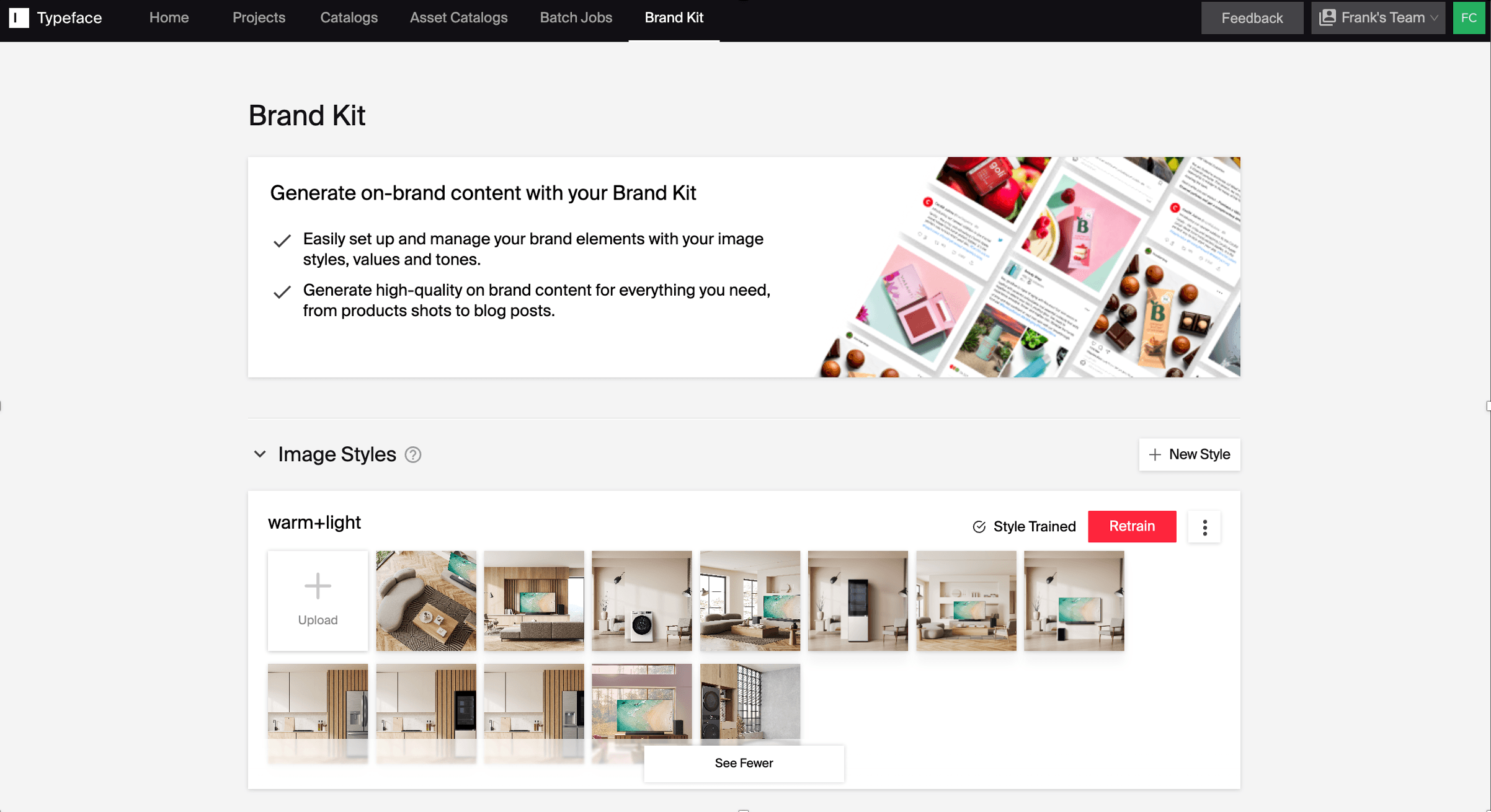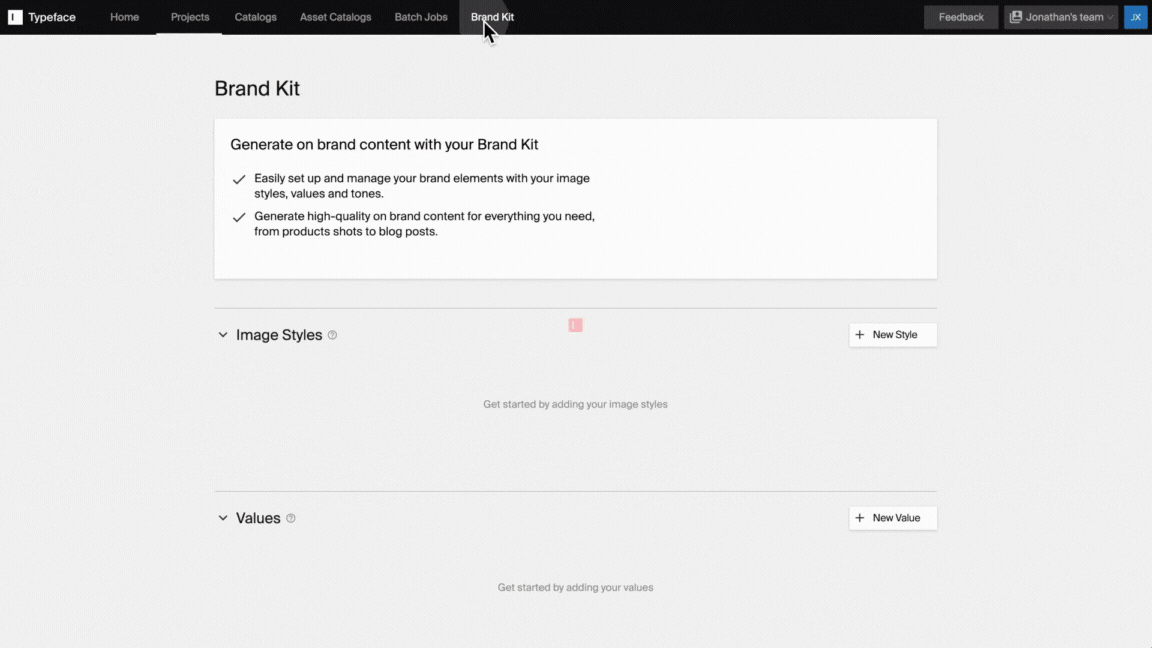 Image Style: Warm and Light Home Interior 
2) Text Values and Tones: Incorporate your brand's distinctive voice into your content. Values represent your company's core principles, such as "openness, create community, or play as a team" while Tones are the personality of your communication style, such as "conversational, bold, or straightforward." Typeface will learn your company's unique writing style and apply it to the copy it generates. Here are a few examples in action: 
Your emails will align with your company values (think inclusive language, minimal jargon, or no gendered language like "guys") 

Blogs will have a consistent company voice, no matter who writes them 

Social media posts will strike the right conversational tone to engage your audience effectively 
 💡 Pro tips for how to set up text values and tones: For best results, we recommend: 
Add up to 5 Values and 5 Tones. 
Set Values as nouns (e.g., Empathy, Curiosity) and Tones as adjectives (e.g., Bold, Optimistic). 
Keep the length of your descriptions at 1-2 sentences.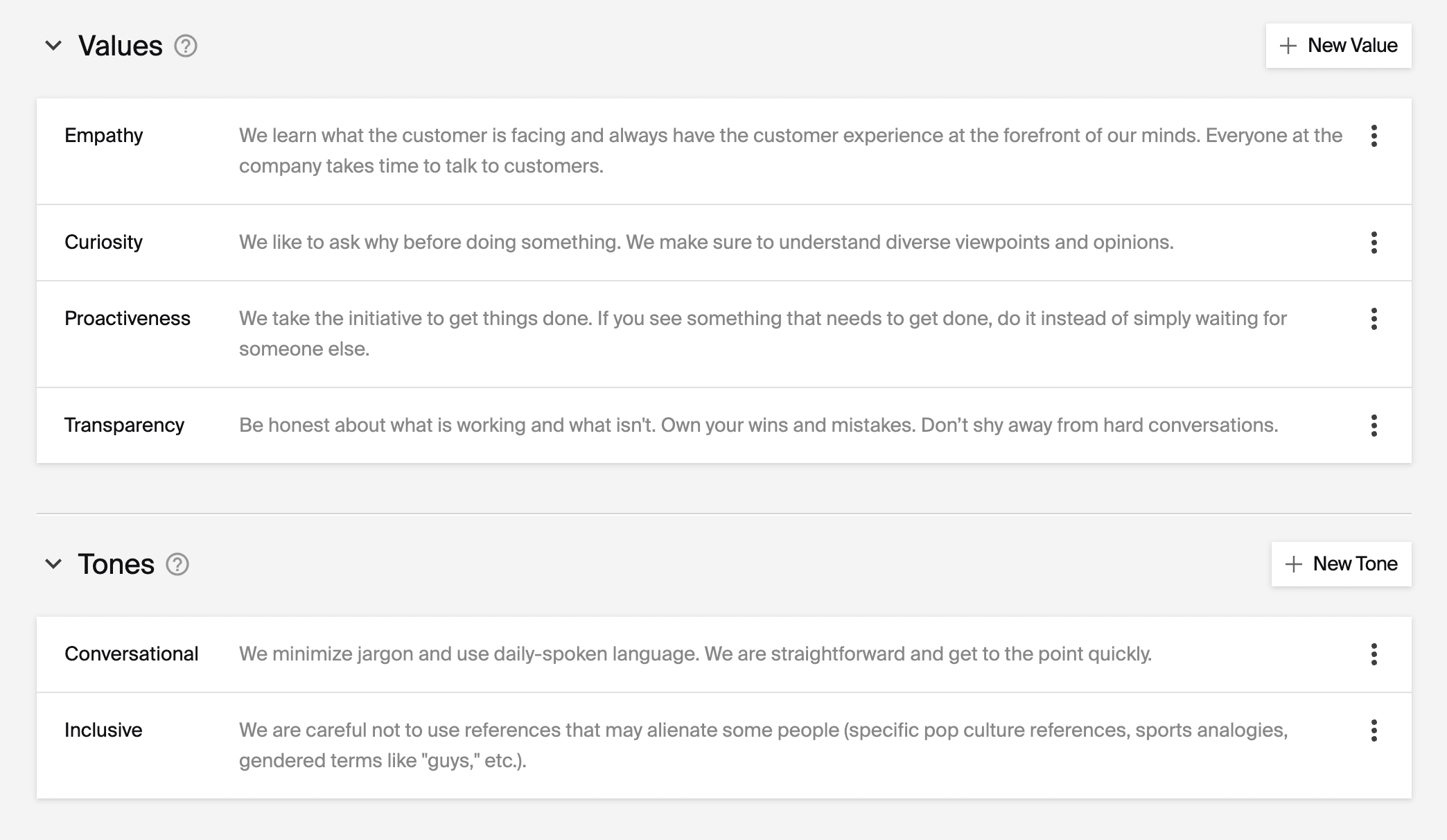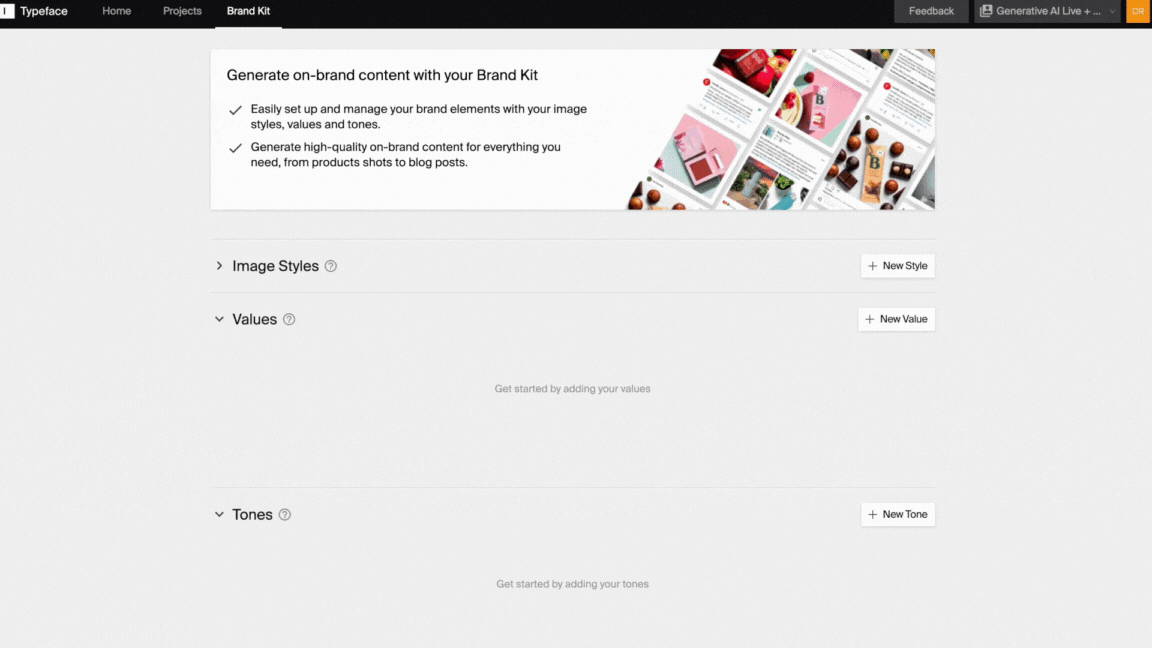 Any authorized team member in your workspace can customize this on the Brand Kit page. You can control who gets access to your workspace in your profile settings. For current users, start building your Brand Kit today. 
More Ways to Maximize Content Efficiency Across Mediums
Now that your brand identity is set, it's time to create content in various formats and channels. Your brand speaks through a myriad of mediums, and as content creators, you're no stranger to juggling various content types — video, images, text, and audio— all in one project. We're here to simplify your life by streamlining the reuse of your existing content across different formats and channels, saving you valuable time and effort. 
Meet our latest additions: YouTube Blend, Vimeo Blend, and Podcast Blend. These three templates empower you to effortlessly convert video and audio files into different formats, broadening the reach and impact of your content. Simply paste the link to your video or audio recording into our platform, and Typeface AI transforms it into engaging written content, such as blog posts, social media updates, or email announcements. Our customers have discovered ingenious ways to make the most of these templates. Here's how they're optimizing their content: 
 For YouTube Blend and Vimeo Blend (video-to-text generation): 
Webinar takeaways: Turn recorded webinars or online events into easily shareable articles, reports, or downloadable resources. 
Educational content: Condense lengthy educational videos into bite-sized written content, ideal for study guides or online courses. 
Video reviews: Convert product review videos into concise written reviews that can be embedded on your website or shared on e-commerce platforms. 
Interview highlights: Extract key insights and memorable moments from interview videos to craft engaging articles or social media snippets. 
For Podcast blend (audio-to-text generation): 
Email newsletters: Utilize Podcast Blend to generate content for your email newsletters by summarizing podcast episodes and encouraging subscribers to tune in. 
Teaser tweets: Create teaser social posts for upcoming podcast episodes, building anticipation and fostering audience engagement. 
Podcast transcripts for SEO: Automatically generate detailed show notes for each episode, enhancing SEO and making it easier for listeners to access relevant information. 
Blogs for thought leadership: Repurpose podcast content into impactful blog posts, complete with top quotes, takeaways, and episode links. 
When combined with our Brand Kit, these templates offer an efficient way to boost your on-brand content production process. Try them out. 
💡 Pro tips: Brand Kits are automatically applied to all your content by default. To remove them, simply turn the Brand Kit button on and off in your template's "Advanced Settings."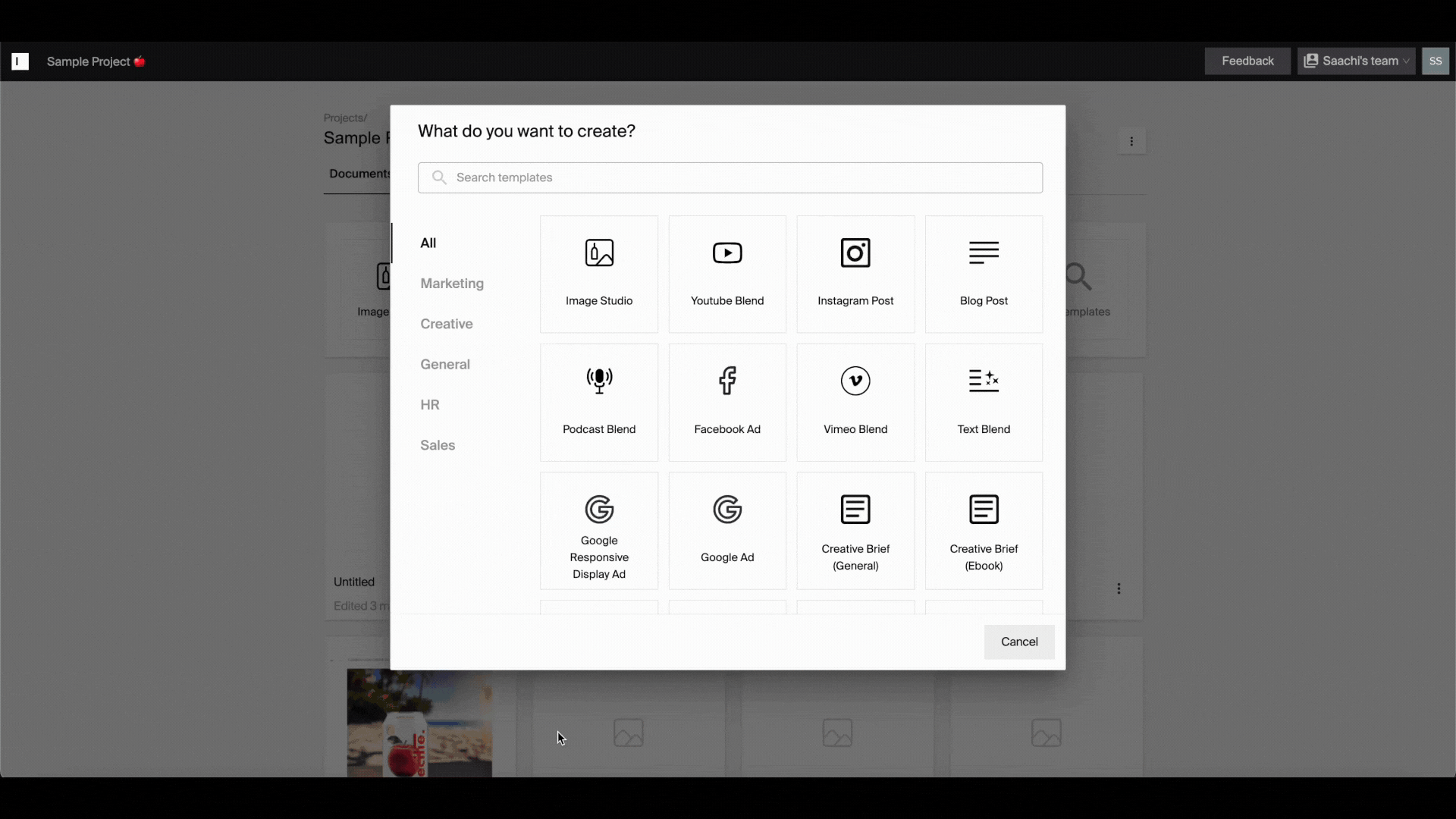 Industry recognition for #1 multimodal AI content personalization platform
We're excited to share some fantastic news that underscores our commitment to revolutionizing multimodal content personalization. Typeface was awarded the winner in 2023 Intelligent Applications 40, FoodTech Award 2023, and CogX Innovation Awards for the "Best AI Product - Marketing & AdTech." 
We owe this success to our incredible customers whose support has made these accolades possible. These awards recognize our dedication to seamlessly blend brand personalization across mediums with content velocity, allowing you to scale on-brand content effortlessly.
Great brands are built when the brand story is consistent across every marketing channel. Our recent releases help marketing teams achieve their brand promises with strong guardrails and scalable workflows. For current users, log into Typeface and try these new features out today.
Thanks for reading! Stay updated by following us on LinkedIn and Twitter. If you're not on Typeface, join the waitlist for our latest features that accelerate personalized content creation. 
---