Major Product Update for Instant AI Product Photography and Audience Personalization

Vishal Sood · Head of Product
May 1st, 2023 · 5 min read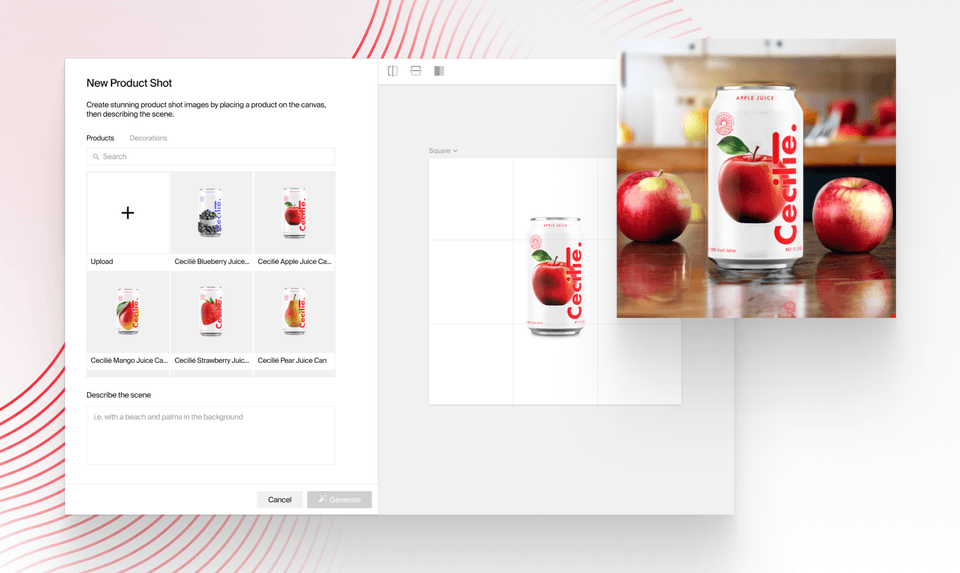 Two months ago, we launched Typeface to democratize content creation for businesses, and the response has been phenomenal. We received thousands of waitlist signups and invaluable feedback from our early adopters. Today, we're thrilled to announce a major update to Typeface, introducing a suite of new features and templates that will elevate personalized content creation to new heights while making the design and collaboration process even more seamless.
Image Studio — Click to create high-res product shots in minutes & export to Photoshop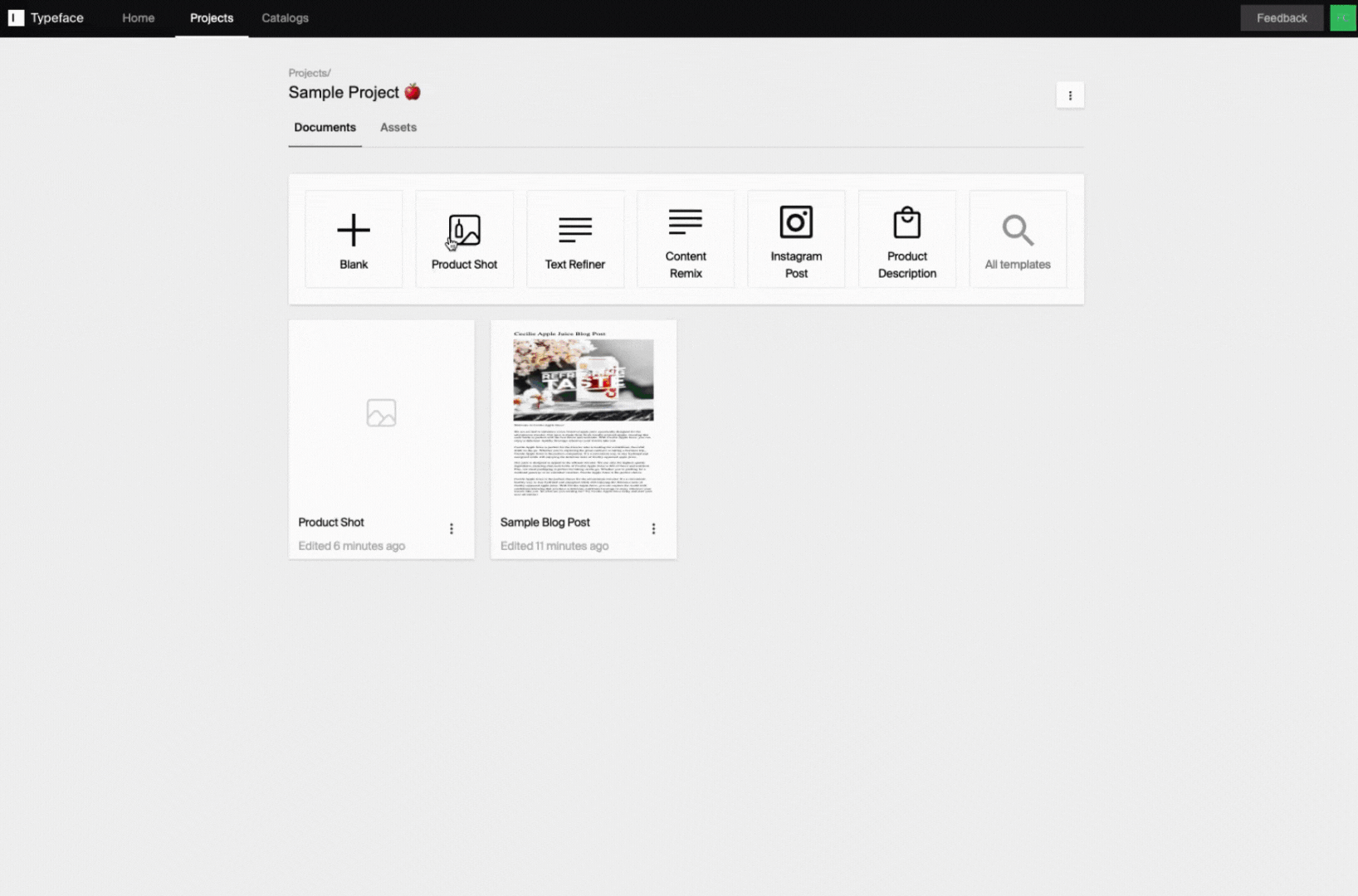 We get it — starting from scratch to create an image can be overwhelming, especially when you already have a clear idea of how you want your product to be showcased. Plus, it's not just about creating the image — you may also need to do post-processing or editing in existing tools like Photoshop.
That's why we created Image Studio — a suite of image design tools to easily create high-end product shots or concept photos without extensive design or AI experience. How it works:
Upload your asset.

Resize, rotate, or move it to your desired location.

Describe the scene around your product and choose from pre-made decorations.
Typeface generates professional-looking product shots that maintain your brand's integrity — all at a fraction of the cost and time of a real photoshoot.
Here are a few examples of what you can create:
A product shot of your latest skincare line with a beachy backdrop for a proposal deck

A product shot of your new sneakers on a city street for a social media campaign

Concept art of your brand's flagship store in a bustling shopping district
Plus, you can easily download high-res images in multiple formats (JPEG, PNG, WEBP, PSD) and upscale up to 2K resolution for ready-to-post images.
Pro tip: If you add decorations, include them in the prompt for optimal results.
Text Blend — Transform existing content with a specific voice or audience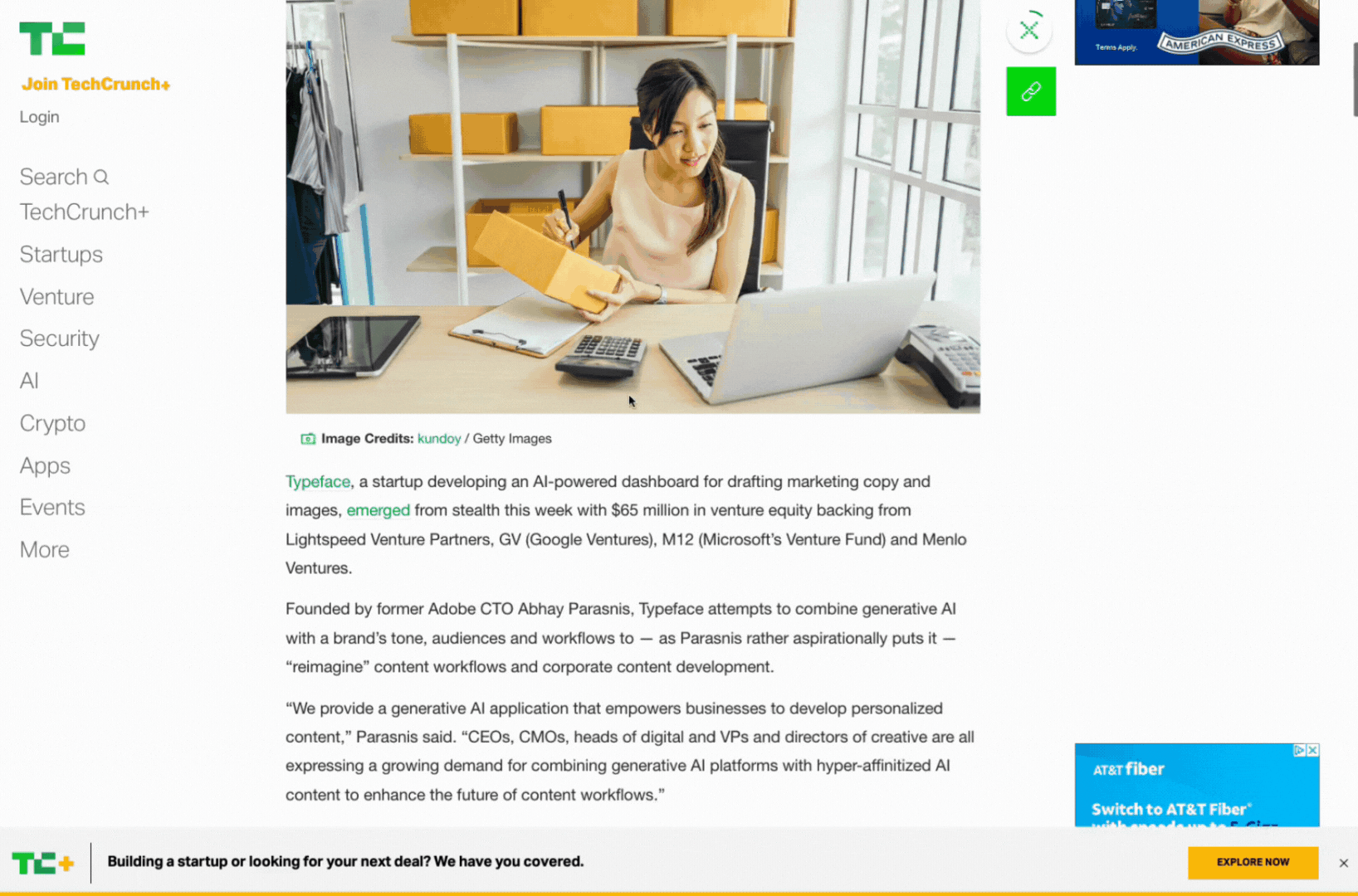 We are about brand personalization at our core. That's why we created Blend — our Affinity AI that self-learns and customizes creations to each brand. To provide further personalization, we added a Text Blend template that allows you to rewrite, summarize, or transform existing content into a specific voice, such as a celebrity, or for a particular audience. Some ways you can use Text Blend:
Write a recap of a basketball game in a celebrity voice

Repurpose your CEO's keynote YouTube transcript into a blog for college students

Summarize a white paper in a more conversational tone
Simply copy/paste content or provide URLs — articles, PDFs, YouTube transcripts, and more. Plus, our template-based interface makes it easy to create without extensive prompt engineering or lengthy prompts.
Pro tip: To train the AI model to mimic the desired tone, copy/paste sample text with a similar voice type as a reference, especially if you're not using a celebrity voice.
7+ New Templates — Personalized to your Audience and Language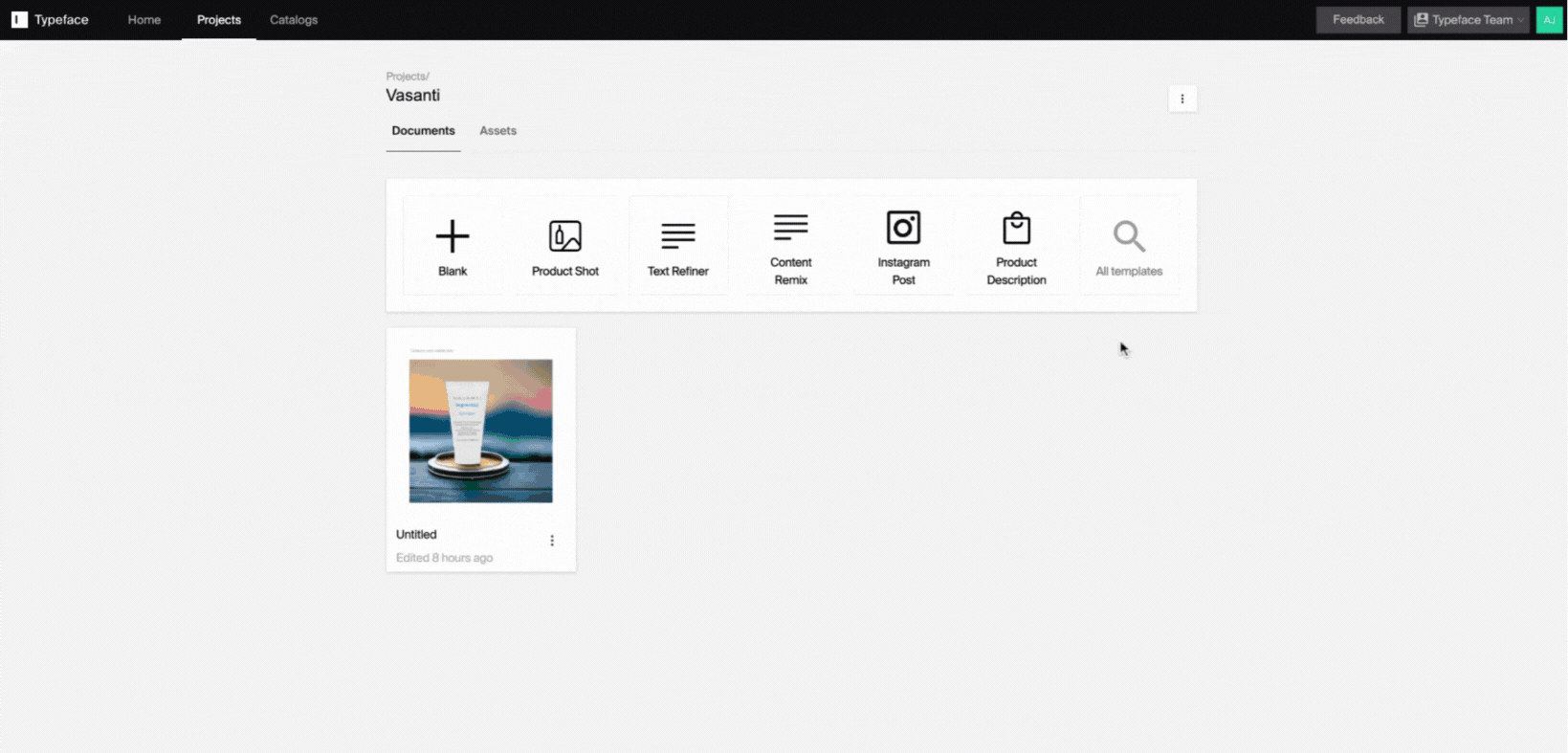 Not sure where to start? Start with proven examples to generate high-quality copy for 15+ use cases. The best part? We've included a new Audience section to specify persona, tone, and language for more personalized, localized content.
Here are a few ways to use templates that we think you'll love:
Product Listing: Create an e-commerce product description in 7 languages with product shots and unique selling points.

SEO Meta Tags: Generate multi-language SEO meta descriptions for a blog post to boost visibility.

Emails: Write personalized nurture emails and pressure-test 10 subject lines about a new free trial offering for developers.

Job Post: Create a product description for a Senior Content Marketing Manager in minutes that includes your company overview, responsibilities, equal opportunity statement, and more.
Swap out backgrounds in existing images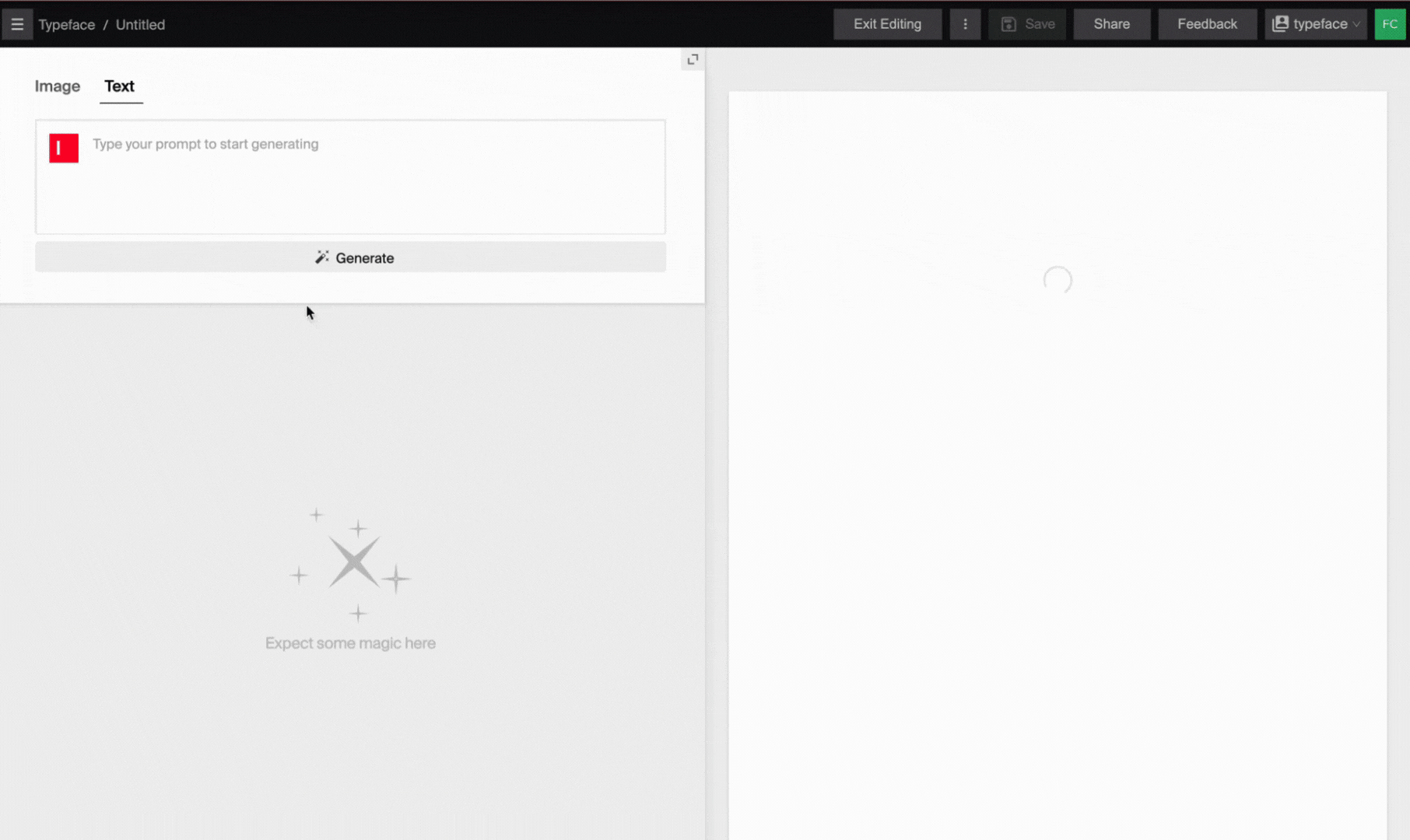 Sometimes, you already have an image you want to start from. Now, you can use an existing image to build upon your brand assets or iterate on a generated image to create new visual content without starting from scratch. Choose from two easy options: remix background or logo inspiration. Simply upload your logo/image and write a simple prompt, and Typeface will change the scene or add your logo/asset to different backgrounds for your marketing campaigns, social media, or branding projects while preserving your asset or logo visual identity.
Collaborate within the same account
Collaboration is key to any workflow. That's why we've added the ability to invite teammates to your account or create a team account, so they can access and edit multiple projects at once.
Get Started
The latest Typeface features are now live on our web app and available to all current users. If you're not yet part of our community and want to get in on the action, you can join our waitlist or shoot us a DM on social media with your use cases for faster access.
We want to take a moment to thank our early customers and adopters for their invaluable feedback. As always, please let us know if you have any questions or feedback — we'd love to hear from you.
---