Bringing Typeface to Google Cloud and Leveling up Generative Editing

Vishal Sood · Head of Product
June 20th, 2023 · 5 min read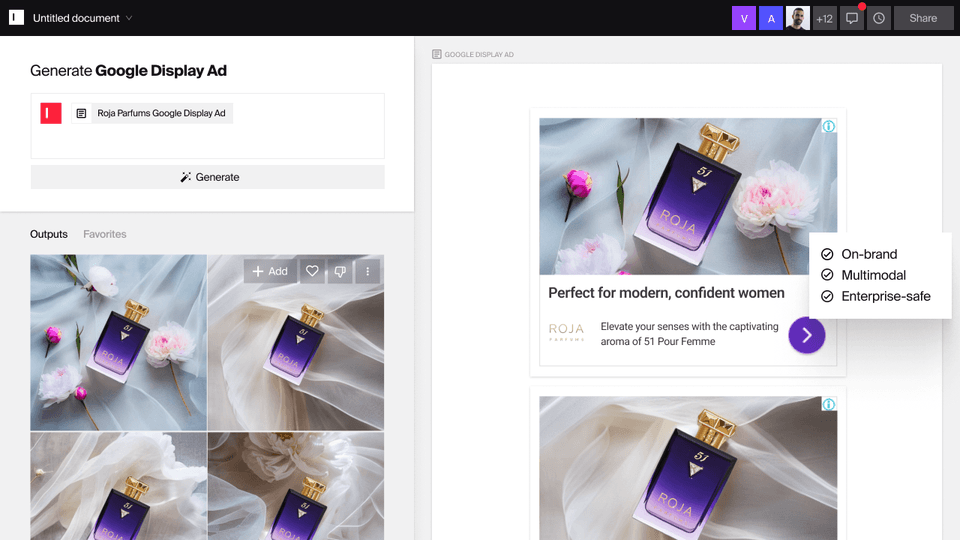 We've had an incredible few weeks here at Typeface. On June 7, we announced a new strategic partnership with industry powerhouse, Google Cloud, and participated at their Google Cloud Executive Forum at its Bayview Campus, sparking countless engaging discussions with top executives from major brands. To top it all off, we even shipped some exciting new product updates to supercharge our AI editing features and to bring Typeface's personalized content generation into the tools you already use and love.
Here's a recap of what's new:
1. Advanced AI Editing for Iterative Design
The creative process is all about collaboration and iteration. At Typeface, we're dedicated to giving you the tools you need to stay involved and effortlessly refine your images and copy until they're perfect for sharing. That's why we're excited to introduce two incredible new features that take AI editing to the next level.
Generative Edit for Images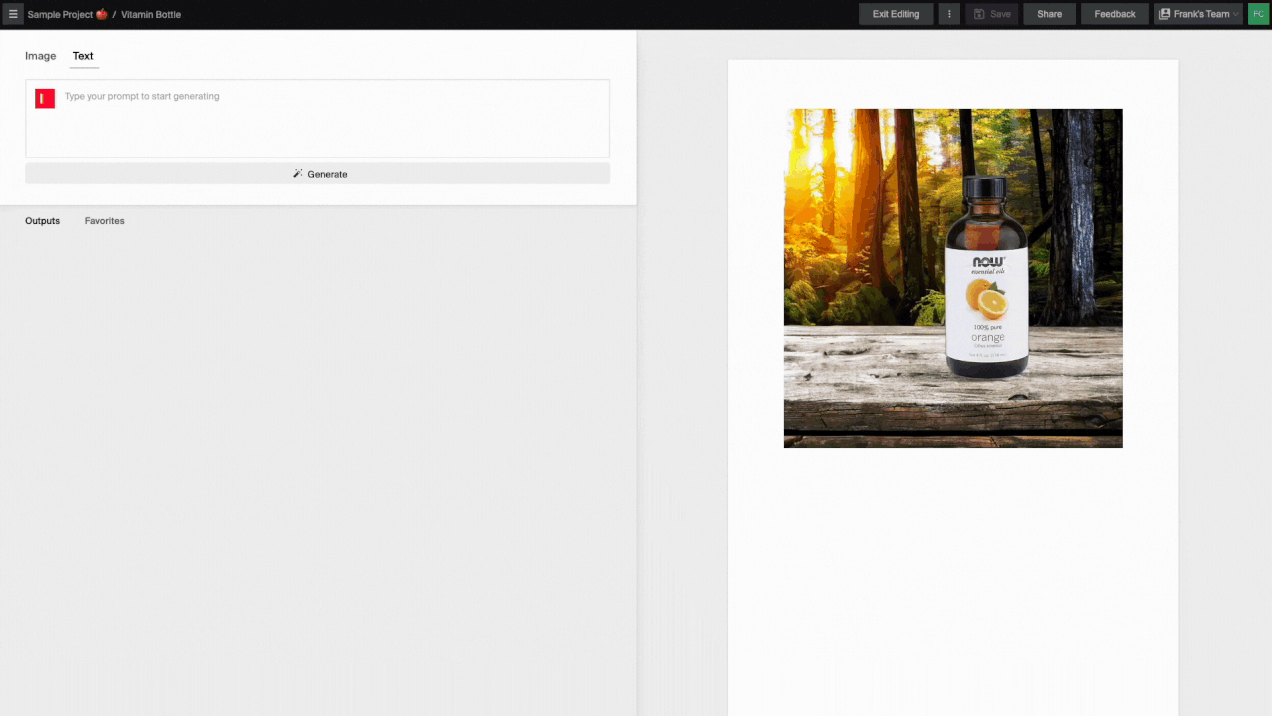 Say goodbye to the days of relying solely on graphic design software to make changes to your images. With our "Generative Edit" feature for images in Blend, you now have the power to select any area on an image (e.g., object, decoration, or background) and use natural language to describe how you want that specific area to be edited.
Here are just a few examples to spark your imagination:
Transform a table from a wooden texture to a sleek concrete surface

Add more fluffy clouds to create a dreamy sky in your lifestyle photo

Remove an unwanted decoration in the right-hand corner

Replace the product asset with a different asset

Manually edit and refine masks to ensure Typeface accurately extracts the desired product assets for image generation
Generative Refine for Text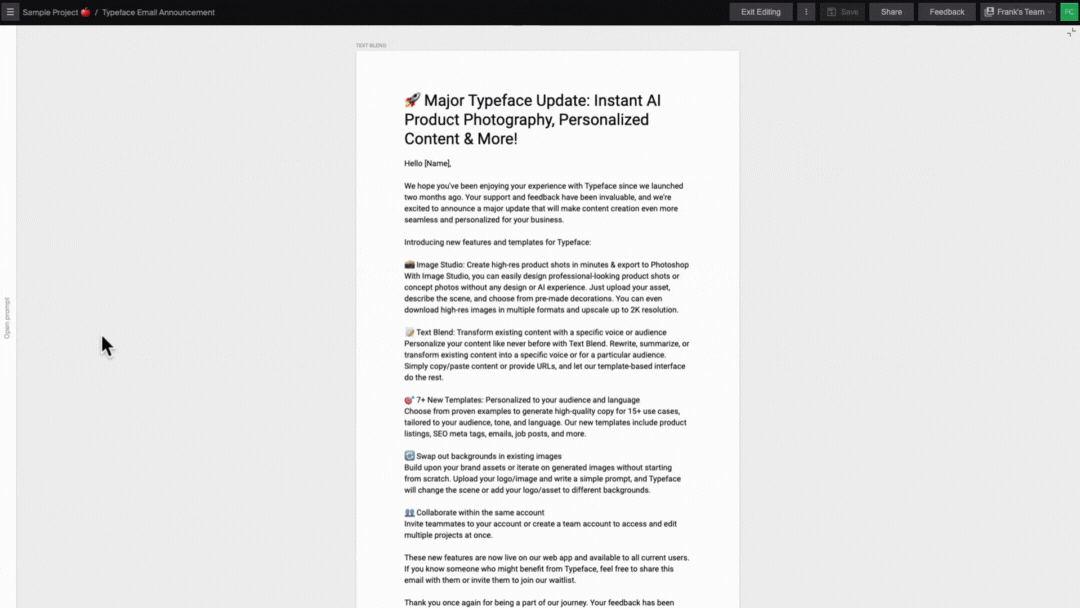 With our inline "Generative Refine" feature, you can edit text directly within your Typeface content editor and auto-adapt to different objectives, languages, or channels, saving you countless hours writing and editing. Here are a few ways to use Generative Refine:
Write a summary in 10 seconds

Translate to another language, such as Spanish, Korean, French, and more

Make shorter or longer to get rid of fluff or expand your thought

Surface key action items from notes, customer calls, meetings, and more

Change tone from professional to more conversational for a blog or email

Specify your own prompt, such as "turn this blog into a tweet"
2. Video-to-Text Generation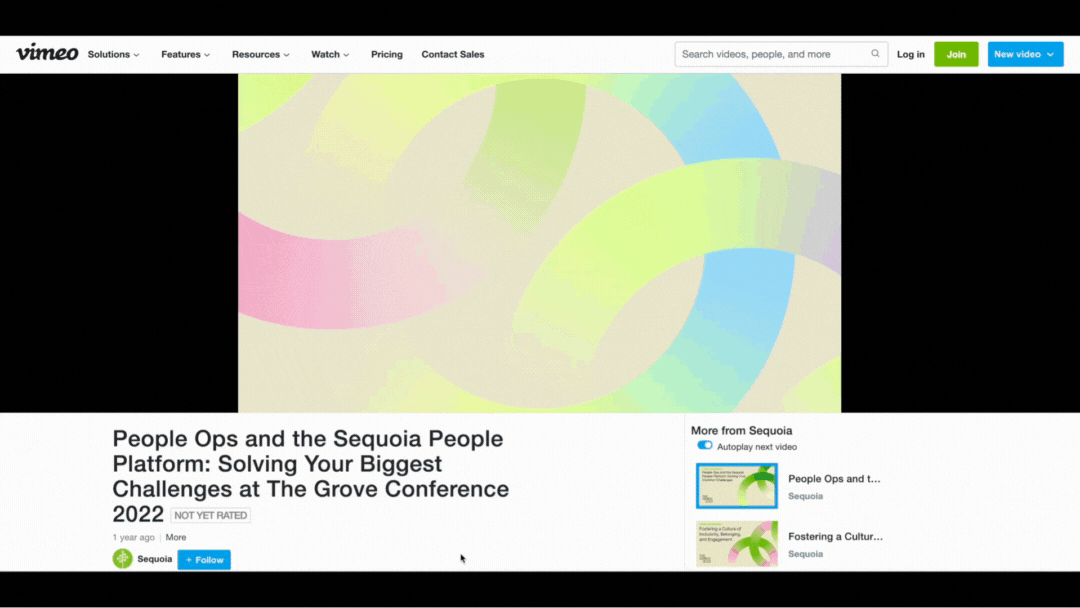 A few weeks ago, we introduced Text Blend to quickly repurpose your existing content into any other format, from events to blogs to social posts. We've now added support for Vimeo in addition to YouTube, so you can take a video URL and turn it into text content in seconds. Some ways to use Text Blend for video-to-text generation:
Turn your CEO's keynote into an event recap blog post

Turn a webinar into follow-up email to attendees or 1-sentence social posts

Summarize key takeaways from a training session for employees
3. Personalized AI-generated content for Google Ads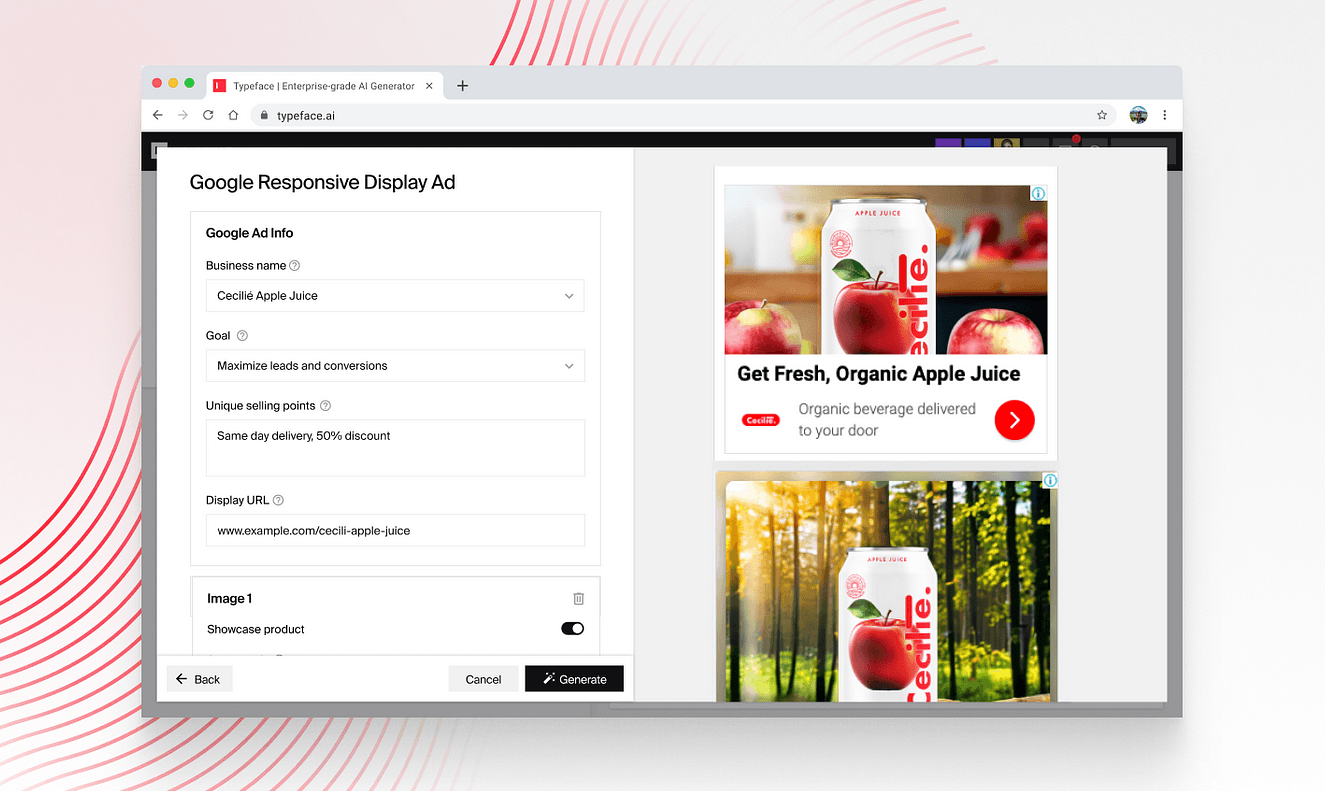 If you've dabbled in digital marketing, you're likely familiar with Google Ads. With Google being the go-to search engine, hundreds of thousands of businesses use Google Ads to attract and engage customers. At Typeface, we strive to bring AI-generated content to the channels and platforms marketers already use to grow your business. That's why we're excited to introduce our new Google Ads template, supporting Google Responsive Display Ads and Google Search Ads. Just input your campaign details, key messages, and audience profiles, and Typeface generates a first draft, accelerating the ad brainstorming and authoring process.
Example use cases include:
Ad copy generation: Generate personalized, compelling ad copy for your next campaign, such as to promote new products or limited-time offers, to boost web traffic, drive in-store conversions, or increase brand awareness.

Multimodal image ad creation: Create a multimodal ad with image and copy for your next campaign. Even generate multiple on-brand, visually appealing images to A/B test ad performance in your next Google Ads campaign.

Local targeting or re-marketing: Tailor ad copy or images to specific campaign objectives or personas to engage users in a specific geo or to re-engage users.
4. Typeface in Google Cloud Marketplace and Google Workspace
AI-generated content shouldn't sit on an island. We make it a top priority to partner with trusted marketing and advertising solutions, so you can use Typeface AI directly from the tools you already love. We are thrilled to announce a brand new partnership with Google Cloud to make Typeface more accessible to businesses and millions of users already using Google Cloud and Google Workspace.
Uses Google Cloud's cutting-edge generative AI capabilities and latest large language models through Vertex AI to stay at the forefront of AI innovation, including Imagen for image generation and PaLM 2 for text generation.

Will bring Typeface to the Google Workspace Marketplace, with compatibility for Gmail, Google Docs, Google Slides, Google Drive, and Google Chat, so you can create multiple marketing assets directly from your Workspace apps.
Get started today
Existing users can now access our new features in their account. Want to try Typeface? Join our waitlist today! For businesses utilizing Google Cloud and Google Workspace, stay tuned for our joint solutions. More exciting updates in the weeks ahead!
---